Admin Forum:What creates the speech bubble "tail"?
Talk

0
Share
Ad blocker interference detected!
Wikia is a free-to-use site that makes money from advertising. We have a modified experience for viewers using ad blockers

Wikia is not accessible if you've made further modifications. Remove the custom ad blocker rule(s) and the page will load as expected.
This Forum has been archived
Wikia's forums are a place for the community to help other members.
To contact staff directly or to report bugs, please use
Special:Contact
.

You know that little triangular "tail" on speech bubbles that points back to one's avatar? It can be seen easily enough on the User Profile Masthead or on the first post of a thread with the new forums/Message Wall/Blog. What is creating that? I've been trying to select it with the Firefox console mouseover, but I can't specifically choose it. Is it some image that's z-indexed down below the level of the main div that's floating on top? czechout
 ☎ ✍  fly tardis 00:09: Mon 03 Dec 2012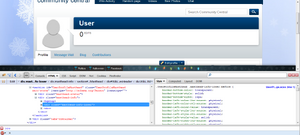 Those little triangles are created using the :before and :after pseudo-selectors, which is why you can't click on them. To find them, you actually have to inspect elements near them until you (hopefully) find the one on which the pseudo-selector was used.
Here's sample code demonstrating what selectors to use.
/* make little triangle next to avatar
   in article/blog comments disappear */




.SpeechBubble

 

.speech-bubble-message

:after

,




.SpeechBubble

 

.speech-bubble-message

:before 

{


    

display

:

 

none

;




}


 
 


/* make little triangle next to avatar
   in profile mastheads disappear */




.UserProfileMasthead

 

.masthead-info-lower

:before 

{


    

display

:

 

none

;




}
I'd completely given up on removing that pest (the user page one). I'll be using that code too, thank you, Mathmagician. And thanks, CzechOut, for bothering to ask! :D Starfleet Academy (Messages) 08:25, December 3, 2012 (UTC)