Ad blocker interference detected!
Wikia is a free-to-use site that makes money from advertising. We have a modified experience for viewers using ad blockers

Wikia is not accessible if you've made further modifications. Remove the custom ad blocker rule(s) and the page will load as expected.
What is your username? Dr.Fudge
Please link to the wiki here: http://game-of-deadbolt.wikia.com/wiki/Game_of_Deadbolt_Wikia
How many edits have you made on that wiki? 16 and I am currently editing. (most of the editings were to create pages that now have chunks of info about the game with a lot of images)
How many days/months have you been editing there? 2 days
On the Special Pages → Special:ListAdmins when was the last time an admin edited, and who was it? ArloTheEpic, August 13, 2016
Any other information: The wiki is poorly made, with a lack of a wordmark and a decent background. Despite being created 3 month ago, it only has 7 pages (counting the 3 I made) and most of the existing pages were had little o no info, with no more than 2 lines and 1 or none images until I came and started updating the pages and adding new pages with lots of info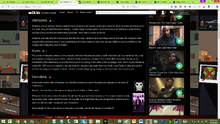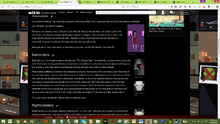 The pages I made in the little time I have been in this wikia
http://game-of-deadbolt.wikia.com/wiki/Achievements
http://game-of-deadbolt.wikia.com/wiki/Zombies
Are you starting to see what I mean?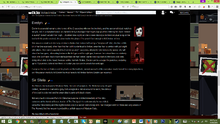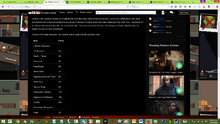 Here is a comparation between my edits and the latest edit that was not made by me (The green ones are the mines, except in the last one).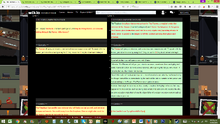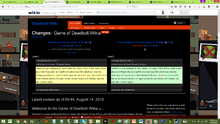 What I am trying to say here is that I want to have admin rights, not because i wanna usurpate Arlon or feel important, is because I really enjoyed Deadbolt and I wanna make him a decent wiki, but without admin rights I can't make it as awesome as I want or add as many things as I would like to add, such as making a new wordmark, and further customizing the wikia.
Now I will continue to edit the vampire page
Unofficial response: (Please wait for an official response by a staff member)
As per the adoption guidelines, an admin/bureaucrat must be inactive for at least 60 days before you can adopt the wiki. You will have to ask ArloTheEpic for admin rights. —
Monochromatic Bunny
|
☎
21:27, August 16, 2016 (UTC)