What is your username? brianmpenn

Please link to the wiki here: http://holylandsrpg.wikia.com

How many edits have you made on that wiki?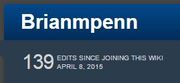 Updated count info.

How many days/months have you been editing there?
Since Apr 18, 2015.

On the Special Pages → Special:ListAdmins when was the last time an admin edited, and who was it?


Any other information:' I am also an admin on the official facebook fan page for Holy Lands.  http://www.facebook.com/groups/hlrpg/
Thank you for your time and assistance.
Unofficial response: (Please wait for an official response by a staff member)
In order to be eligible for adoption, make sure to contribute to the wiki everyday for at least a week. Good luck!
Lelouch Di Britannia
Talk
03:28, January 8, 2016 (UTC)