What is your username? ParsiDude

Please link to the wiki here: Zoroastrianism_Wiki
How many edits have you made on that wiki? 58
How many days/months have you been editing there
On a standard wiki, I would have to have made more edits and been there more days, however, I've made the most contributations in years, making #1 on the leader board, adding all the pictures, creating nearly every page on the wiki. The founder only created one page, not counting the main page. Each of these pages were pictureless and had one sentence (more like fragments). The wiki essentially had no content what so ever. I haven't been there very long, but I'm the closest thing to a founder the wiki has ever had.
On the Special Pages -> Special:ListUsers when was the last time an admin edited, and who was it? Alex      7 edits - last edit December 8th 2012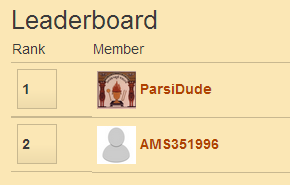 Alex is a Vandal, he destroyed and deleted the entire wiki
Edit
It appears the Alex has developed extreme hatred and prejudice against my faith. I had created 42 articles for the wiki; Alex recently deleted every single page on the wiki except for our mainpage and a redirect...he deleted every single page, revoked my adminship, so I could not restore the pages and demolish the wiki. I must have buercrat rights so I can block evil disdainful,corrupt monsters such as him and have our wiki safe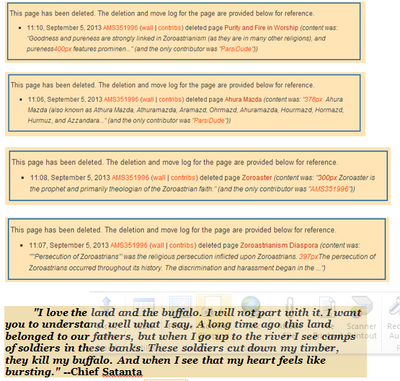 from this monstrosity. It is impossible for me to recreate the pages as well as I can and difficult for me to rebuild all the knowledge lost. I need burecrat rights, which cannot be revoked by the scum of admins who only wish harm to the wiki. He never made any productive edits, and I am so depressed from this loss and destruction that I cannot create new pages and find it depressing to rebuild what has been lost. I am all Parsis have been greatly wronged by this dictatorial infidel. Alex has created wikis for numerous religious that are not run by people of those faith or run at all. He has oppressed all minority religions and prevented us from running wikis about our faiths...he has sole control. He is a horrible monster and his rein of oppress must be stopped, he prevents anyone from putting anything on any his wikis, He simply deletes there edits and gives them no power to create; almost like he created all his "oppression" wikis so he could prevent us minorities to create articles on what we believe in. I will not have this offense. I gave me admins rights right before I was about to adopt the wiki and then took it away and destroyed the 42 pages I made. I need burecrat rights so that no scontril like him and con me and my people ever again and we can have this wiki for all people. He will not tolerate any pages on the wiki, he only created them so knowone else could. I pray that he may be golbally banned and atleast i be given the rights I deserve or the restoration of our wiki that was destroyed. My heart is broken, i spent much time on the pages and am depressed. I have not made recent edits since all the articles on the wiki have been deleted for his evil. I am acting radical, but who wouldn't. I deserve to have burecrat rights so I can restore the 42 pages on my faith and have it as a FUNCTIONAL wiki, which Alex denied. I support all people and believe that this intolerance is a crime against the Parsi people. In the name of God, do the right thing; he also deleted the page of our God.
Hi. This is not an adoption request -- the appropriate place to report this is at Special:Contact; we will be happy to investigate the issue, and restore the pages/your rights as appropriate. However, I only see about 10 deleted pages on that wiki, and he does not appear to be an admin on any other religion wikis at the moment; so please also include some links to other examples of his behavior when you send in your report. -- Wendy (talk) 04:45, September 26, 2013 (UTC)