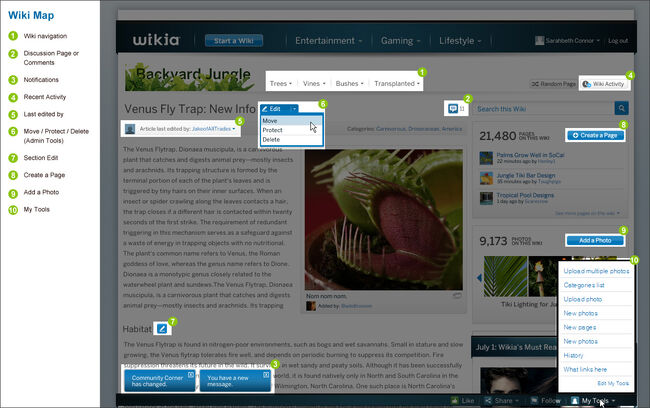 Wiki Navigation: The wiki sidebar navigation has now been moved the top of each page, for quick access to the most important links on your wiki.
Discussion Page or Comments: Click on the talk bubble now to visit the talk page or comment section.
Notifications: Instead of a bar across the top of your wiki, you will now see a dismissible notification bubble when you have new messages or there is a change to the community corner.
Wiki Activity: This shows you information about the latest edits made on your wiki. This is the new version of MyHome (and contains a link to Recent Changes).
Last Edited By: This dropdown menu is an updated version of history, and shows the most recent edits to the page.
Move/ Protect/ Delete: Many of the admin links formerly located at the top of the page have now moved into the Edit this page dropdown. To find move, protect and delete - click on the blue "Edit" or "Leave a message" dropdown menus. If you're not an admin you'll only see move.
Section Edit: Instead of a text link, you'll now find section edit is available by clicking on the blue pencil icon to the right of each section title.
Create a Page: Create a page button allows you to create a new page in one click.
Add a Photo: You can find Add a Photo links in the "Photos on this wiki" module on the right hand side of the page or in the rich text editor on the edit page.
My Tools: My Tools is a new feature on Wikia that can be found on the floating toolbar and will follow you wherever you are on Wikia. History and what links here will appear by default, but you can easily add your favorite pages and tools to the menu by simply clicking "Edit My Tools"
Ad blocker interference detected!
Wikia is a free-to-use site that makes money from advertising. We have a modified experience for viewers using ad blockers

Wikia is not accessible if you've made further modifications. Remove the custom ad blocker rule(s) and the page will load as expected.