Talk:Community Development Team/Requests
123,333pages on
this wiki
Archives:
01, 02, 03, 04, 05, 06, 07, 08, 09, 10, 11, 12, 13, 14, 15, 16, 17, 18, 19, 20, 21, 22, 23, 24, 25, 26, 27, 28, 29, 30, 31, 32, 33, 34, 35
To request design and/or technical help from the Community Development Team, click the "Add your request" button and enter the name of your community (with a link) plus a description of what you want help with. Don't forget to sign your request with ~~~~.
Before you post your request, make sure that the community follows the
best practices
criteria.
About Wikia.com's Alliance
Edit
Hello, I am the admin of the Heroes Wiki (hero.wikia.com). I want my community to be part of the Wikia Alliance (wikia.com/Alliance). Can you please help me?--AlexHoskins (talk) 19:55, May 7, 2016 (UTC)
Ender's Game Wiki
Edit
Hey there, I've requested here before. The 10 year anniversary of my wiki's founding is pretty close, so I need one or two graphics for the occasion.
Thanks!
MavikVCT
Liv and Maddie Wiki
Edit
I'm an admin on the Liv and Maddie wiki and I was hoping you could please help me create a "Longest Article" template to put at the top of a page. And like you did for the I Didn't Do It wiki for me, please also change the background to adding the main characters around the edges with these pictures. Liv:
File:Liv_promotional_pic_9.png
Maddie:
File:Maddie_promotional_pic_6.jpg
Joey:
Parker:
Karen:
Pete:
R5 & Auslly ROCKS!!!!: Mon, 16 May 2016 20:55 (TC)
Admin Dashboard
Edit
Hello. I need help setting up 'chat' on my wikia 'Fanfiction4All' but I can't get to te admin dashboard. Would it be okay if someone helped considering this is my first day on the sight?
Please and thankyou,
-Writer202 Writer202 (talk) 04:46, May 17, 2016 (UTC)
Myartwork Wikia
Edit
Hi there this Manhunterfan225, I have benn with wikia for a while now. I have created a wikia called http://myartwork.wikia.com/wiki/Myartwork_Wikia its a site with examples of my art work on it and I'de love to get more views on it. Ive also recentluy joined a another wikia called http://cartoon-art-history.wikia.com/wiki/Cartoon_Art_History_Wikia Ive teamed up with the founder of that wikia and thats another wikia Ive gotten into that is a work in progress. If you could look into those two sites and maybe see what needs to be improved on I'de really appricate it. 
Thanks, Manhunterfan225
London Wiki - colour of links
Edit
See http://london.wikia.com/wiki/London_Wiki_talk:Community_Portal - could the Oasis links be appropriately colour-linked as RP requests. 'Category of things which is obvious when you know where to look/what to change.' Jackiespeel (talk) 14:56, May 20, 2016 (UTC)
Candadia Wiki
Edit
Candadian Angel~ (talk) 08:32, May 21, 2016 (UTC)Can I request? I want my homepage look beautiful like Jewel Pet Wiki's homepage but it turns blank. My wiki is named Candadia Wikia. Is it okay... to request?
Candadian Angel~ (talk) 08:35, May 21, 2016 (UTC)I am the founder of Candadia Wikia, and please help. My homepage gets blank and I would request this development team to make my homepage look like Jewel Pet Wiki, but in the Candadia Wikia version. Please, or if you don't fulfill my request, my wiki will keep getting poor!
Girl Meets World Wiki
Edit
Hey! You have helped us making backgrounds and stuff at our wiki before and now we just want an update. New character pictures have come out and we'd like to get something fresh. Can you update the background on the wiki like this:
Using the background on this picture as the background on the wiki
Change the paper planes pictures from season 2 to season 3 (you can find all the character pictures on the character pages on the wiki :P)
Change the color of the name in the paper planes from red to yellow/gold (so that it matches with the background in all the pictures)
Also, can you update the header for us?
Keep the GMW logo at the left
Change the red background to match with the gold/yellow background from the character pictures
Use this picture and replace the old one
This isn't going to be on the GMW Wiki, but I'm not an admin on the wiki I'm requesting it for so I thought this would be okay.
Firstly, can you make a show logo for the name "Trails"? Here is maybe some inspiration for you. Just remember that it got to have a hint of red in it and also have to be race-ishy along with the words TRAILS.
Then, I am hoping you can make a poster based on these photos.
This car has to be in it. I'm not sure whether the picture is good for you to edit or not, but if it isn't then you can find one on your own that's kind of the same. Also, this girl must also be in it, but you don't have to use the whole picture if you know. :) Here is maybe some inspiration for the poster, but don't make it exactly the same, please. ;) Something similar to this background would also be nice. You choose! :D
Based on the poster you've made above - can you make a similar picture like this one? Use the Trails logo along with the premiere date which is June 10. :)
Then, can you update this logo from "Ackerman Agent" to "Ackerman Agent International"? How you add the international part is up to you. :)
Lastly, can you make a poster similar to this and this one? You can use this as the background? For the persons, can you use this picture (and cut the shoes part) and only use the top (what's above the shoes) along with this? And the lastly, add the Ackerman Agent International logo at the top with this quote under (not exactly the same design as the other ones, please): "THE SPY WHO CHARMED YOU." Thanky so much! :)
Austin9393 12:17, May 22, 2016 (UTC)
Fuller House Wiki
Edit
Just like you replyed to me on the background I need your help
This time I want to change my wiki's wordmark into something like this [1] just add the er where it says full don't change anything else just turn full into Fuller here's the link to my wiki [2]
Thank you
FullerHouseFan01 22:53, May 24, 2016 (UTC)
Miner's Haven Wiki
Edit
TheWikiaEditMachine (talk) 14:42, May 28, 2016 (UTC)
Link to my wikia: (Miner's Haven Wikia) http://rblx-miners-haven.wikia.com/
I'm one of the Bureaucrats on this wikia and I would like to know how to add to the infobox themes in MediaWiki:Wikia.css so that I could remove the green lines inside the infoboxes that separate rows. One example of these green lines I'm talking are in this page's infobox: http://rblx-miners-haven.wikia.com/wiki/Pineapple_Refiner
FNaF World
Edit
Hi all, I would just like to ask if you do something you did a couple of years ago to our wiki (FNaF World one). I saw it on the freddy-fazbear one and I really liked it.
This is what I mean:http://freddy-fazbears-pizza.wikia.com/wiki/User_blog:Raylan13/Five_Nights_at_Freddy%27s_Community_Choice_Awards
Thanks ADTMP
CW's Flash Wiki
Edit
Hello!
I'm an administrator for the CW's Flash Wiki. I was wondering if you have any advice for what I could do better (like tips on wordmark, wallpaper, ect). Also, if you have any information on the Community Choice Awards, that'd be great. Thanks!
• Contact • Contribs • 18:56, June 4, 2016 (UTC)
Encantadia Wiki
Edit
Hi...I am an avid fan of Fairy Tail so of course on that wiki Im an editor lol Fairy Tail Wiki
In my country theres a show called Encantadia and I went on and started a wikia about it. So I picked Fairy Tail to copy templates from and I was confused... I NEED MAJOR HELP!
I would like to have the same templates (size and text) BUT thats not all
In Fairy Tail there are Guilds, guilds are a group of magic using people. In the Fairy Tail Wiki each character from a different guild has a different color Character Infobox Template.. example Im from the Earth Guild so my infobox would be color blue and for example my friend is from the Mars Guild so his infobox would be Red. Badsically Each Character template from the Fairy Tail Wiki has a different color representing each guild So i kinda need help XD
Thats about it actually
--PhoenixFlames23 (talk) 13:50, June 7, 2016 (UTC)
Team Umizoomi Wiki Fix-Up
Edit
http://teamumizoomi.wikia.com/wiki/Team_Umizoomi_Wiki
Dear Community,
I'm the admin at the Team Umizoomi Wiki, and I need your help with making my wiki more portable, as well as a few other fixer-uppers, such as:
And that's about it. I'll let you know if I need anything else.
ChameleonCove 23:00, June 7, 2016 (UTC)
Local Government History Wikia
Edit
I know I have removed a few too many '|'s from [3] and 'dislocated' some of the columns - could someone put them back in again please. Jackiespeel (talk) 18:33, June 9, 2016 (UTC)
CW's Flash Wiki
Edit
Hi there! I was wondering if you have any possible way of finding a way so I could make a font with a gradient nearly identical to the one of the actual Flash logo, for different usage around our wiki. here is the wiki.
Thanks!
• Contact • Contribs • 14:27, June 13, 2016 (UTC)
Cupquake Wiki
Edit
Hello! I am an admin at the Cupquake Wiki.  I am unsure if our wiki has recieved assistance from you in the past, but I looked at the best practices and made sure we met all the requirements. There were a couple things I was hoping I could have done. 
I noticed there were some lovely links on the Yogscast Wiki home page. When you mouse over them there is a nice effect which I quite like. I understand how the picture links are made, but could not figure out how they created the mouseover effect when I looked at the source code of the templates. Is this something to do with the css or java? Would you be able to create something like this for the Cupquake Wiki home page? I would love to organize all of Cupquake's series in an easy-to-use grid like this. Making the home page look nice on mobiles would be awesome as well!
Something else: I have noticed many wikis have a rounded navigation bar at the top. Could our wiki get this? 
Also, I was wondering if you could enable the variable extension. I saw this was a dependency for many of the article management templates on the template wiki . 
Oh! And another thing: a kind wiki contributor (who shall remain nameless) has created tons and tons categories on the wiki that are largely useless. There are so many categories with only one or two pages in them, and the only way I have found to delete them is to go in to the classic wiki editor on each page in the category and remove the page from the category until there are no pages left. Is there a more effective method of doing this? Can I restore the categories to the way they were? (I know this was kind of a best practice for organization but I was trying to make it better)
Last thing--I promise. If I could get a new wordmark based on iHasCupquake's new logo here, and a background based on the "Sweet Friends" here I would be so grateful!
I'm so excited! Its like I'm waiting to be chosen for an HGTV renovation show... except it's a request to get our wiki some help. You know, maybe you should consider your reality TV options: Pimp My Wiki, Wiki Nightmares (It smells like $$$ to me!)
Many thanks in advance, and hopefully I did this request thing right!
✿CupquakeFan✿ (talk) 07:37, June 14, 2016 (UTC)
Saya no Uta Wiki
Edit
Hey there. I founded the Saya no Uta Wiki a couple of days back, and we currently have 33 content pages. The source material is rather sparse, and it's unlikely it'll ever reach 50 pages, hence why I am requesting here now. The wiki currently has no designs, so I need a favicon, wordmark, and some help with the main page. Thanks, as always!
MavikVCT (talk) 19:50, June 17, 2016 (UTC)
MediaWiki:Common.js + Ads Sidebar
Edit
Hey there,
I would like to request our wiki to have the /MediaWiki:Common.js special page enabled for our admins, so we can make changes for the better of our wikia community.
We wish to add some calculators and other advanced features into our wiki since we're slowly building up a wiki editing community and with time will gain more visitors to our wiki.
Also, on our wiki frontpage there are a few ads on the sidebar that we would love to be disabled so we can add our own sidebar with social features and widgets. If it's possible to disable the sidebar, we would love for that to be done.
Thank you for your time reading, and for providing excellent customer support.
~ With Kind Regards,
The OSRune Wiki Editing Team.
Soyakii 20:58, June 18, 2016 (UTC)
Sex Gangsters wiki background
Edit
I was wondering if you could please help me with the background images for http://sex-gangsters.wikia.com/wiki/Sex_Gangsters_Wiki the images are shown on http://sex-gangsters.wikia.com/wiki/Thread:8914#2 any help would be appreciated wildecoyote Howdy Pardner leave a message here  03:42,6/20/2016 
London Wikia
Edit
Due to the way some templates have been created there are 'any number of irrelevant templates' (mostly to do with football), which are listed on the 'Wanted Pages' list.
What is the best way to deal with them that does not involve too much work, does not disrupt the wiki-architecture, and which enables someone who has a use for them to quickly reconstruct the relevant materials? Jackiespeel (talk) 17:32, June 20, 2016 (UTC)
Piggy Tales
Edit
Hi. I would like a better Banner that says "Piggy Tales Wiki". I would also like a slide with the 3 seasons please.
Supreme Lord of Supremeness II (talk) 14:59, June 26, 2016 (UTC)
Can someone please tell me where to enter  a new wordmark?  I don't get it..
Thanks,
Marv  
lyons@GAIANistas.net
Disney Channel Wiki
Edit
I am an administrator on the Disney Channel Wiki and I am asking if you could help the Disney Channel Wiki. We are just starting to become more active and we need help.
Thanks! Disnickfanatic (talk) 13:45, June 28, 2016 (UTC)
Nashville Wiki background
Edit
Hi,
I'm an admin on the 'Nashville' wikia here: http://nashville.wikia.com/wiki/Nashville_Wiki
I have a photo I want to use as my Wiki background but I would like it in such a way that one person is on the left of the screen and the other is on the opposite side.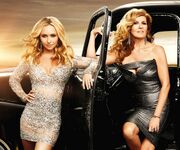 I've downloaded GIMP but have no idea how to use it so I'm wondering if there's an easier way to do it.
Many thanks in advance. --Sfinn85 (talk) 17:45, July 5, 2016 (UTC)
Defenders of Darkness Wiki
Edit
Hi. Can you create a logo for my Wiki The Defenders Of Darkness Wiki. I'd like a logo instead of the text that is used by default. Thanks. 
Sword The Litten 20:30, July 8, 2016 (UTC)TheSwordWillCome
Somewhat Wiki
Edit
Hi I am the founder of the Somewhat Wiki (http://somewhat.wikia.com/wiki/SomeWhat_Wiki). I would like some help expanding our wiki with more users. Thanks. Tiger2025 (talk) 02:58, July 14, 2016 (UTC)
Six Feet Under wikia background
Edit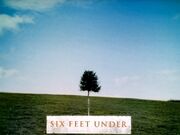 Hi,
I recently adopted the 'Six Feet Under' wikia here: http://sixfeetunder.wikia.com/wiki/Six_Feet_Under_Wiki
I'm currently redesigning it but found an image that I would like to use as a background.  Would it be possible to have the image on both sides of the main text area or would I need to choose a different image?
Thanks in advance.
Sfinn85 (talk) 10:54, July 14, 2016 (UTC)
Big Brother Wiki
Edit
Hi, I am the main active admin of the Big Brothe Wiki, Scoop21. I was wondering if I could have custom fonts added to our community based on our logo like so Big Brother US Font .
Thank you Scoop21 (talk) 04:14, July 17, 2016 (UTC)
Prey wiki
Edit
With the announcement of new Prey installment, the wiki homepage would really benefit from a face lift. The homepage looks too much compacted, the headers design look near invicible or out of place. Half of links on homepage doesn't work because of design flaw. I already updated the background and wordmark. So, I would really appreaciate if you could have a quick look at it and share your thoughts. BerzekerLT (talk) 17:41, July 18, 2016 (UTC)
Our clan leader offline for many month's.
Edit
I want to be leader.. And now i am co-leader in this clan. We are not control our clan because our leader offline for many days.. .so my request is please as soon as promot me leader.. Then i should to control of our clan. Our clan tag is-#LUROJLJQ..i have 3 account in coc. So i create this clan...now i do not remember that when i create this clan what of our account.. Bt that i know that this profile of coc name is (SAYAN2/Tubai)..now those 2 account remove and clear data unfortunately...and now i have our main id. (SAYAN) in this clan. I now play th 9....so my request please promot me Leader.. And also my 2nd account/3rd account was leader many days ago..bt unfortunately our clan member uttara was promot leader.. Nd she many month ago will not on in coc.. So pls pls pls promot me LEADER. my account name (SAYAN)Profile tag-(#80Y9CUCGP). . And unactive leader name-(uttara). .profile tag-(#8RGUG22PY) ..
                            Thank you. (sayan)