No file by this name exists.
Description
Aired February 15, 2013
Slides & Transcript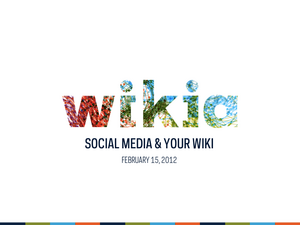 Welcome to our February Webinar - Social Media & Your wiki. We want to thank all of you for coming.
Presenters
Today we have with us two of Wikia's Social Media Coordinators, Kate Moon and Nate Blonkenfeld. Together, we will be providing you best practices, tips and examples of how to use social media to grow your wiki's audience and members of your community.

Why Social Media?
Why are we covering social media? Well let's first think about how the expansion of the internet over the past decade has impacted the way we not only live, but how we learn, interact and spend our free time. In the past content, like stories and news, were only found in print, then radio and tv revolutionized this, and for many years they dominated how information was produced and shared.
But the internet again revolutionized this. Now if you want to look up a fact you go to wikipedia, if you want find out the time for a movie or concert, you go to the locations website and if you want to book a flight, order take out or buy a new shirt - all of that can and most often is done online.
Why Social Media?
What do you do now though if you want to know what your friends are up to? Or want to figure out why your favorite website isn't loading? If you ask most folks today, in these cases and many others they turn to social media sites.
In essence it's place where people can interact to create, share, and exchange information and ideas. Here you can see the logos of some of the current major social media sites - google plus, youtube, facebook, twitter, pinterest and tumblr - but there are many more out there and many sites that provide social media components but don't consider themselves solely social media sites. Today we are going to talk with you about a couple of these main sites, but please also free free to send in questions, ideas or even your own tips. I am now going to hand the mic over to Kate who will talk with you about the benefits of social media to your wiki, how to get started, as well as what to do and what to avoid.


Hi, my name is Kate, you guys may have seen me around on various wikis. What I do is help promote wikis via social media, I manage accounts such as Hunger Games Wiki, Avatar Wiki, True Blood Wiki, and more. I'm here to talk about is how social media can benefit and affect your wiki.
Social media is a huge resource for your wiki to promote your content, find others interested in your topic, keep up to date on news and connect with others such as companies, individuals and fans - around your shared passion.
Hunger Games Wiki Example
Getting the word out means more people are not only aware of your wiki, but also visiting it. The increase in pageviews means more people are reading viewing or even contributing to your wiki. More visitors leads to more editors, and can help identify your wiki as a resource within your topic.
A good example would be The Hunger Games Wiki, which has increased exponentially with the help of social media as well as the release of the film in 2012, which we timed specifically to get that momentum. Here you can see the trajectory of the followers over the course of the year.
Getting started
First, assess your audience, who are they and what are they most interested in? Do most of the people interested in your topic interact more on Facebook or Twitter? Ask and do a bit of research before you get started so you know where you can get more eyes on your wiki
Start out on only one or two platforms, then add more if it makes sense. It can be daunting to set up 5 accounts and try to manage them all. We recommend starting with 2, such as facebook and twitter, testing it out and then reassessing after some time.
Double check to see if there are accounts already tied to your wiki and if not, see what naming convention works best. We recommend always including the word "wiki" in your account name along with the most common or popular name for the subject. Such as Deadman Wiki or Call of Duty wiki.
Who should have access to the account?

a couple of admins
if you're not an admin, check in with the rest of the community before getting started

We also recommend asking for input on what gets posted. You can create a blog list or forum area where recommendations can be left.
Setting up Facebook
On facebook the goal is to create a page for the wiki that others will like, which will post updates to their newsfeed. A page allows for multiple users to act as admins on it, and you can post from your personal account and look at page stats as an admin.
To get started you will need a profile picture and a cover photo. You can also add additional images, a description, link to important areas of the wiki and milestones. We recommend you fill out the "About" section and link back to your wiki. We also recommend that you keep the focus on the wiki and its activities, versus personal information. Here you can see a good example from Glee Wiki. They have done a good job of matching their wiki's theme including similar colors, logo, and incorporating the main characters from the show.
Setting up Facebook
The profile picture should be 170 pixels by 170 pixels, but up to 180 x 180 can be uploaded. This is a good place to incorporate your wiki's wordmark or favicon.
For the cover photo you are given 850 pixels by 315 pixels. Here you may want to include main characters or scenes. The cover photo allows you more space to visually represent your subject. We recommend using photoshop or a similar photo editing site and there are many free options, to adjust your image to exact size. Remember simplicity can go a long way, so don't feel you need to include absolutely everything about your wiki in one image. Updating the cover photo frequently to celebrate what is happening on the wiki gets more user interactions. Examples would include, a new game or new show coming out, new images, and wiki milestones.
Setting up Twitter
For twitter, we recommend many of the same things. Be sure to include a description of the wiki, with a link to your wiki. Some wikis like to list the users who manage the account, but that is a preference.
Here you can see the Avatar Wiki's twitter account. They have done a great job with their background, incorporating images and colors found on their wiki. Their description uses important keywords and links back to their wiki. This has worked well since they have around 2,700 followers!
Setting up Twitter
For twitter you have 3 areas you can customize, your avatar, the header and the background. For the avatar we recommend using something similar to the facebook profile picture, so your wiki's wordmark or something similar. The avatar is 81 x 81 pixels but we recommend uploading a larger photo with better resolution. An image that is 200 x 200 will often offer better quality.
The header is the area behind your avatar, and the size should be 520 x 260 pixels, but we again recommend making this a bit bigger. You can also use a basic color as seen here. This allows for the logo to stand out and not compete with the background.
And lastly, we have the background. For this we recommend 2104x1206 pixels. This will work well with various screen sizes. Remember the middle section will be covered by the twitter content.
Followers
After creating and designing your Twitter and Facebook profiles, there are a couple of places to begin.
Spread the word
Once you have your followers down, account set up and have done some preliminary posts, you can start spreading the word! We have some tips to help you get off the ground. For facebook you can start by asking your friends to like your page. We recommend doing initial outreach to your network as well as asking members of your community to do the same. A couple of things not to do:
Don't spam - keep to asking people to like or follow you only a couple of times
Don't over ask people to re-tweet or share your posts - this becomes pushy
Some things TO do is to tweet at networks, authors, official accounts to let them know that a whole wiki exists for something they've created!
You can also check what is trending for your topic or hashtag words that are tailored just for your topic, that's a good way to get more people to see your account, and relatedly, your wiki.
All about the content
What's the most important aspect of your social media accounts? It's all about what you say! Content is at the heart of a successful social account - interesting, fun and engaging posts get a lot more interaction than those that aren't. So what are our main tips for what to post?

Keep in mind
Twitter Advice
Facebook Advice
Tools
There a number of tools that exist that can help you to manage your social media accounts - offering easy ways to post, search and see your interactions. Three we recommend checking out are:
bitly - a service which shortens your urls then allows you to track how often their clicked
These will help you see the big picture view of who is talking about your wiki and makes it easier to interact with others. They also allow you to post to both facebook and twitter from one location. Here you can see a screenshot from hootsuite which Sarah uses to manage the Wikia Community Account.

Wiki Integration
Once you are comfortable with your social media accounts, it's now time to add them to your wiki. There are a couple of places & ideas we recommend:
Add it to your wiki's navigation. Many wikis have a community tab in their navigation, this is a great place to not only link to your local policies but also add links to the wiki's social media accounts.
The community corner is a good place to announce that you have accounts and put links to them. This will show a notification to visitors that it has been updated.
Wiki Integration
Most importantly you should add the twitter and facebook widgets to your mainpage. This allows you to pull in your recent tweets & facebook followers. It allows folks to follow a tweet and offers the ability for someone to like your wiki's page right from wikia. Here you can see an example from the Camphalf Blood Wiki main page.
To add these widgets to your main page you need to use a special tag called Help:Verbatim.
Other places you can add it to is your welcome message, your signature or on other important, highly visited wiki pages.
Other Social Media Platforms
Facebook and Twitter of course are the most readily used forms of Social Promotion but we are seeing that wikia communities are also using sites like Tumblr, Instagram, Pinterest and Google+
Wikis doing a great job
As part of prepping for this webinar I chatted with N7 and Damac1214 who manage the Call of Duty Wiki Twitter account, facebook page and youtube channel. I also chatted with Bereisgreat who runs the DeadmanWiki and KuroBas Wiki twitter accounts and assists Kate in running the WikiaAnime twitter account. Now I'm going to share with your how they got started and their advice on how your wiki can become successful on social media sites.

Call of Duty Wiki
N7 and Damac are the main admins who manage the Call of Duty social media accounts, but the content is from users across their wiki. The wiki's account was started back in 2011, but became more active in 2012. Currently their facebook page has just under 1300 likes and on twitter it has over 6,300 followers!
When asked why they use social media, both N7 & Damac said it was to spread the word about the wiki to the rest of the Call of Duty community. Specifically that "It spreads the wiki's recognition to other parts of the web, and thus attracts more visitors to the wiki". They believe they have received more recognition from the rest of the COD community because of their accounts. Some of their successes there have been Re-tweets from CoD developers and most recently Sledgehammer games, one of the Developers of Call of Duty, started to follow them.

Call of Duty Wiki
When we chatted about how they gained such a large following, they cited their use of the Call of Duty News blog on their wiki as a big part of it. N7 stated "I think its mainly by posting news that people like to see especially if its exclusive or if we're first".
Call of Duty Wiki Advice
Admin Advice
Bereisgreat had similar advice as N7 and Damac. He started promoting his wiki Deadman Wonderland Wiki through his personal accounts, then decided to make official accounts for the wikis he is most active on. For finding followers he recommends "looking for the fanbase on the social network and following loads of people from there. Chances are high that they'll refollow and retweet, spreading the info you post"
He also recommends keeping it relevant, current and light hearted, including tweeting a regular news feed that links back to the Wiki, along with polls or cool blogs, galleries and the occasional funny quote or joke. A friendly and funny social media account is always better than a strict, boring one. Lastly he has had good results with tweeting videos and pictures of new episodes, characters and scenes.
Admin Advice
When I asked his recommendation for tools he said he uses tweetdeck and tries to tweet at least 5 times a week and sometimes up to multiple times a day.

Add to Community Central
I want to say a big thank you to Bereisgreat, N7 and Damac for taking the time to chat with me and for sharing your advice with the community. Your accounts are a great model for others to learn from - and its super impressive what a big following all of you have gained.
One last place you should add your wiki's accounts is to our pages on community central that list wiki accounts on twitter and facebook.
Wikia Accounts

Other Webinars