FANDOM's forums are a place for the community to help other members.
To contact staff directly or to report bugs, please use
Special:Contact
.

There is this annoying sluppee ad that is a bright blue and takes up the entire backgound of a wichever wiki it is on. I'm not trying to start a hate war, and I understand why there are ads, but this ad is distracting and annoying. Please remove it. Adding a staff needed to this post.
Random yoshi 777

random as of 05/24/2012!!! 01:10, May 24, 2012 (UTC) and i know my signiture doesnt work here, its meant for another wiki.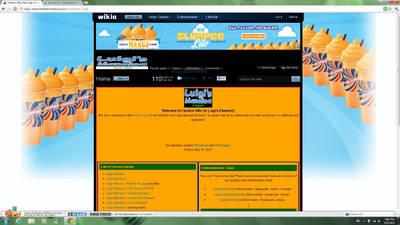 theres a pic, but it does not happen on that wiki only, it happenes on a lot of wikia's wikis.
Random yoshi 777

random as of 05/24/2012!!! 01:51, May 24, 2012 (UTC)
This is no longer "rare". It used to be uncommon, but recently I've tested it and on about 90% of page loads when not logged in the background is replaced by an advert. It essentially means whatever background you choose is pointless for non-logged in users. Is that expected behaviour daNASCAT? --Category:Acer4666 10:16, May 24, 2012 (UTC)
Yet another example that wikia cares more about profit then content and wiki individuality.
Random yoshi 777

random as of 05/24/2012!!! 22:14, May 24, 2012 (UTC)
Hey, at least the ads take up otherwise unused space. Thank goodness for that. Cat: meow ∙ hunt 20:54, May 25, 2012 (UTC)