Shared Help is a feature on Fandom that takes help pages from Fandom Community Central and shares them with all communities. The aim is to make sure that everyone has the information they need to run their community at their fingertips, regardless of what Fandom wiki they are on.
Shared Help pages are any pages in the Help: namespace on Community Central. These pages will show up on your wiki at the same article name location, contained in a box. At the top-right of the box is a link to the Community Central forums.
Note that the shared articles will not show as local pages - that is, they will not show in article lists.
The shared pages are designed to be readable on any theme, including dark themes. If you spot any problems with specific articles, please let us know.
Adding local content
Edit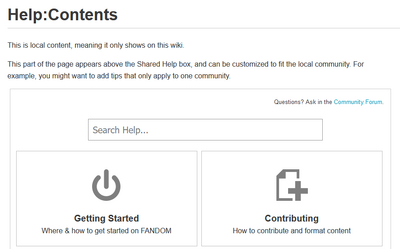 Shared Help does not stop you from having local help content - each community has its own ways of doing things. The content shared from Community Central will only contain general help, so should not conflict with your own advice and/or policies.
To create local content, edit the help page as you would normally. Your content will show up above the Shared Help. You will notice when you edit local help pages, they are empty - even when showing Shared Help pages - this is because the shared articles are not physically on your wiki.
You can hide shared help content on a specific page by adding __NOSHAREDHELP__
Edit notice
Edit
You will be notified on the edit page that you are editing a shared help page:
To suggest major changes to Fandom Help articles, please use the talk pages associated with that page. (If you wish to help out more significantly, you may wish to contact the Community Team).
Although Shared Help pages will act as if they do not exist when editing the article, links to Shared Help from normal wiki content should show as blue links.
Some extensions may not work perfectly in conjunction with Shared Help.
Help: namespace redirects on Community Central will also (silently) redirect on your wiki.
Further Help & Feedback
Edit