This help page references the classic editor. Note that the VisualEditor may behave differently.
Galleries, Slideshows, and Sliders are simple tools to display your community's interesting photos and videos.
Step by step
Edit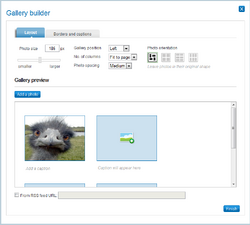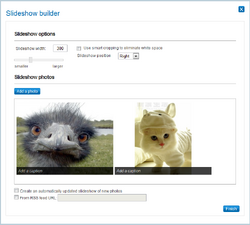 Open the editor for any article page. Make sure the tab at the top of the editor is set to "Visual".
In the right rail, under "Add features and media," select Gallery, Slideshow, or Slider.

A gallery will display a set of photos or videos in an organized, tiled view.
A slideshow will display a single photo field, but it will automatically rotate through a series of photos, with left/right navigation buttons.
A slider is like a slideshow, but larger with prominent link titles and icons for browsing. This is often used for a community's main page.

A popup box will open. Select "Add a Photo," and follow the instructions on the screen until you have added all of the photos you would like included. You can choose to either upload new photos, or select from existing photos on the community.
Set the captions, titles, or descriptions of your selected photos. This information will display below them and will help your readers know what they're about.
Set the size, orientation, borders, or other settings available for your final creation. These options may vary based on the tool you are using.
Click "Finish". Your photos will appear after you publish the page.
Note: Videos can also be used in galleries and sliders, though currently they can only be added via wikitext.
Here are some of ways these great features can look on your community:
Read more
Edit
Ad blocker interference detected!
Wikia is a free-to-use site that makes money from advertising. We have a modified experience for viewers using ad blockers

Wikia is not accessible if you've made further modifications. Remove the custom ad blocker rule(s) and the page will load as expected.