Help:Wikitext
120,830pages on
this wiki
Talk

13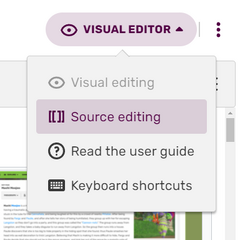 Wikitext is the main markup language used to format content on wikias. It can be used to add photos, tables, bold styles, links, and other visual changes.
It's not necessary to know wikitext in order to edit at Wikia. You can use the new VisualEditor, or visual mode in the classic editor, to avoid it. However, users who learn it find that they have more control over their editing experience.
Wikitext can be used via 'source mode' in either editor. To access an article's wikitext:
Below is a cheat sheet for basic wikitext that you can use while editing. Many of the options listed below have shortcut buttons in the visual editors' toolbars.
Wikitext cheat sheet
Edit
Description
You type
You get
Italicise text
''italic''
italic
Bold text
'''bold'''
bold
Bold and italic
'''''bold & italic'''''
bold & italic
Internal link
(within a local wiki)
[[Help:Contents]]


[[Help:Contents|Displayed text]]

Help:Contents
Displayed text
Redirect to another page
#REDIRECT [[Help:Contents]]
Help:Contents
External link
(to other websites)
[http://www.example.org]


[http://www.example.org displayed text]
http://www.example.org

[1]

Sign your posts
on talk pages
~~~~
Your username 04:42,


6 May 2016 (UTC)

The following work only when used at the start of a line of code
Headings


A Table of Contents will automatically be generated when four headings are added to an article.

==Level 2==
===Level 3===
====Level 4====
=====Level 5=====
======Level 6======

Level 2

Level 3

Level 4

Level 5

Level 6

Bulleted list

*One
*Two
**Two point one
*Three

Numbered list

#One
#Two
##Two point one
#Three

One
Two

Two point one

Three
| Description | You type | You get |
| --- | --- | --- |
| Image | [[File:SeaOtter.png]] | |
| Sized image | [[File:SeaOtter.png|150px]] | |
| Thumbnail image | [[File:SeaOtter.png|thumb|Caption text]] | |
| Aligned image | [[File:SeaOtter.png|thumb|150px|left]] [[File:SeaOtter.png|thumb|150px|center]] [[File:SeaOtter.png|thumb|150px|right]] | |
| Linked image | [[File:SeaOtter.png|link=Help:Contents]] | |
Further examples
Edit
For more complex content that is sometimes more easily managed with wikitext editing, see:
Further help & feedback
Edit