Talk:Delete
79,380pages on
this wiki
What happened to the image for deletion reasons: File:DeletionScreen.jpg? Thanks! — SpikeToronto 20:47, February 21, 2011 (UTC)
It looks like it was never uploaded. Some of these rewrites were pulled in from other testbed/holding wikis, and its possible that some images were forgotten to be re-uploaded here. I'll ask sarah about it. --Uberfuzzy 22:30, February 21, 2011 (UTC)
Deleting categories
Edit
There's no explanation for deleting categories, and also I have found no way of doing so yet. (Chadias 18:48, July 22, 2011 (UTC))
I do not understand the issue. For me, I just go to the pulldown next to Edit and there it is: delete. From that point on it looks like it is pretty standard. But, you will still have to remove the category from each and every page that is categorizing to it. That would require a bot, the AutoWiki Browser, or one-by-one manual effort. — SpikeToronto 19:10, July 22, 2011 (UTC)
I believe the issue here is that the category does not exist in the first place. Yes, it is blue linked on pages, but without any actual page content the category does not exist and can't be deleted. It's for this reason that most people opposed the idea of bluelinking categories.  

Monchoman45

  

Talk

  

Contribs

  

Skystone

 

 22:36,7/22/2011 
No longer having red linked categories is driving me nuts! Yes, it looks nice, but I cannot tell which ones need to be created and which ones do not. Also, it creates the illusion that every category is populated. And yes I know that there are Special: pages for these two things, but it's knowing at a glance that a category needs to be created that is helpful. Also, a red link is often one's first indication that one has made a mistake in entering the category name. Now we no longer have that check. — SpikeToronto 03:26, July 23, 2011 (UTC)
(reset indent)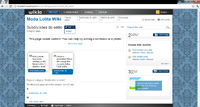 Unfortunately, that option doesn't appear for me in the drop menu. I can only protect categories, and there's no other option. Here's a print screen to make it clearer: —
Chadias
(
talk
) 20:05, July 25, 2011 (UTC)
It is as Monchoman45 suspected: The category you want to delete does not actually exist. Up until recently, it would have displayed, on those pages that would populate it were it to exist, as a red link. You do not have the Delete option because the page does not exist. The clue is where it says

This page needs content. You can help by adding a sentence or a photo

This is part of the software. Hope that helps! — SpikeToronto 22:58, July 25, 2011 (UTC)
Thank you very much! I'm very new to this... Sorry for the trouble.
It would be nice to add it to the deletion page though, to make it clearer. I think I can do that, not sure... I will try. Chadias 23:25, July 25, 2011 (UTC)
Selective restores
Edit
I found out recently that if you restore a deleted page, you can select which revisions to be brought back. It might be useful to point this out so that if someone wanted to more permanently get rid of vandalism in a page, they could delete it, then restore the good versions. —RRabbit42 (leave a message) 23:56, January 28, 2012 (UTC)

There is NO delete function and the edit button doesn't have a delete function!
You, CAMERAPEDIA, know that and don't fix it, why?
Why is it impossible to delete a personal picture?
Frank Gosebruch (talk) 10:29, October 15, 2012 (UTC)
Extra Steps
Edit
Besides deleting a page, an admin should also keep the following in mind:
Check the page history, previous revisions may be worthy of keeping.
Special:WhatLinksHere to check if there are any pages that link to the deletion candidate.
Talk pages, if any were created these should be removed alongside with the main page.
GFallen (talk) 13:36, November 21, 2012 (UTC)
Removed Wikis
Edit
Does Wikia save removed wikis? Galzigler (talk) 00:28, March 25, 2013 (UTC)