Got a question about this topic?
Head on over to the Forum!
You can use this space to suggest improvements to the help page.

My wiki (see here) does not seem to have one of these. I would like to have one, however. Could somebody please help?
Captain of the Thousand Beasts - Kaidovich9X (talk) 14:00, June 13, 2017 (UTC)
Can you show a screenshot of the admin dashboard?

Utkar22~

Float like a butterfly

Sting like a bee

14:07, June 13, 2017 (UTC)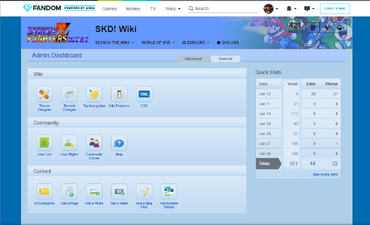 Here you go.
Captain of the Thousand Beasts - Kaidovich9X (talk) 16:00, June 13, 2017 (UTC)