120,636pages on
this wiki
Talk

8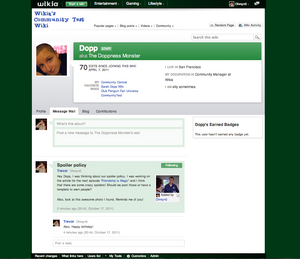 Message Wall is a new feature that replaces User Talk Pages. We'll use this space to keep you updated about feedback received and changes we're working on.
Status
Message Wall is in Labs! Have an admin switch it on your wiki.
Issues Fixed
Delete Log and Contributions pages weren't as tidy as they should be; they are now tidier!
Managing deleted threads was complicated and messy. We've revamped it to make it much more powerful.
Better management tools for your community to remove spam and vandalism, via the "Remove" and "Restore" options.
Thread and Wall histories now exist.
You can now follow a whole wall (and receive notifications for all activity that happens) via "Follow" in your toolbar.
Handmade links to the Message Wall now appear as blue (or your wiki's version of blue)!
Various improvements to Wiki Activity: We now show whose wall the thread is on and have stripped wikitext from the synopses.
Recent Changes now displays as intended.
Updated timestamps when a message is edited
If a thread had HTML or wikitext in the title, it was leaking and affecting Recent Changes and thread pages. Fixed!
System messages said "Talk" instead of "Wall"
View Source would fail on archived talk page. Not any more!
We now display the @wikia emblem for Staff
'Tab return' while editing a messages goes to "Post" button now.
Minor visual changes including line spacing.
A wikitext greeting area at the top of your wall to welcome or provide instructions.
Linking to a specific reply and scrolling to the appropriate place in the conversation.
Cross-wiki notifications for both wikis with and without the Wall enabled.
Better emails

We'll pull in the thread title and the name of the person who sent it - not the URL
We'll give you the full text of a message so you can decide to return to the wiki to reply of not without leaving your inbox.

Automated welcome messages now post on walls.
The ability to easily "view source" of a particular message.
Some situations were producing "Null" as a message header.
Monobook users can now remove, restore, and delete replies and threads.
A way for users to add links and formatting without learning wikicode.
Minor issues regarding the Welcome Bot: its activity is shown in Wiki Activity
Known Issues
Adding a category to a message adds that particular message to a category, rather than the thread or wall.
Achievements settings need to be updated to handle Message Wall messages properly.
Blocked users can't post messages -- but right now there isn't an error message for them. We'll build a warning message or close the fields.
Anons don't get notifications yet.
When a thread is unfollowed it still appears in your notifications dropdown.
Frequently Asked Questions
Q: Will signatures and templates still work?
A: Yes, we're working to make sure that as much wikitext as possible will render as it currently does now. Bylines will also built in to each message, so adding a signature will be optional.
Q: Will this feature be optional?
A: Message Wall is scheduled to be in Labs in January. We will make more feature changes based on usage statistics and feedback before determining its next phase.
Q: Will other people be able to see my messages?
A: Yes, all messages are public.
Q: Will this make it harder to keep up with spam?
A: No! With our new "remove" and "restore" options, anybody with an account can help remove vandalism faster than it takes to create vandalism. Bad guys, beware!
We Hear Your Feedback
We'll be collecting and evaluating feedback as we go. Here are some of the concerns and suggestions we've heard from you. (Please note: this is just a summary of feedback, not our official To Do list.)
Requests to make it optional.
Concerns about it being too similar to existing social networking sites.
Concerns about the name.
A ban feature for message walls only.
Ability to customize automatic signatures.
Table of Contents
Ability to import a user's Talk Page archives to the new system.
Switch preferred name with username in display
Ability to have subthreads (replies to replies)
Ability to see all conversations you've participated in one place.
The ability to customize your wall's pagination.
Preview button and link suggest
Quick Links