This feature has been deprecated
This page describes a feature that is no longer in development and is not supported on Fandom. If you have any questions about it, please contact Fandom staff
This feature

will be retired (unusable)

on February 14, 2017.
This extension can be enabled or disabled using Special:WikiFeatures.
Top 10 Lists allow anyone on your community to create a votable list. This feature is a great way to get new readers and editors to interact with the community. If you use the classic editor, enabling this feature will add "Top 10 List" as an option when clicking "Add a Page".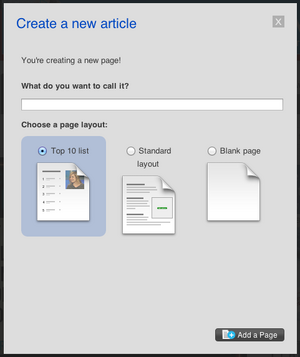 Step-by-step
Edit
To create a Top 10, visit Special:CreateTopList. For the purpose of this example, you will be guided through the steps that were taken to create the top 10 list seen on this Moviepedia page.
The List name will already be populated with what was entered in the "Add a Page" pop-up, but can be changed if needed. There is no need to start the name of your list with "Top Ten" or "Top 10", as the namespace will automatically be "Top_10_list:The Name of Your List"
Text entered in the short description field will be displayed above the first list item.
Photos added using the "Add a photo" tool on the right will not be displayed; you should add images for each list item using wikitext as described below.
Items on the list can be text only, or can contain images or videos. Images or videos must be added to the community before you begin creating the Top 10 List, except for videos used directly from the Wikia Video Library. The suggested width for images and videos is 200 pixels.
On the example page, the wikitext used to display the Skyfall trailer video is:

[[File:Skyfall Trailer 2|200px]]<br />[[Skyfall]]
The caption is linked to the Skyfall article on Moviepedia.
On the example page, the wikitext used to display the Cloud Atlas poster image is:

[[File:Cloud Atlas Poster.jpg|250px]]<br/>[[Cloud Atlas]]
The caption is linked to the Cloud Atlas article on Moviepedia.
On the example page, the wikitext used to display The Avengers link is:

[[The Avengers (2012)|The Avengers]]
The text is linked to the The Avengers article on Moviepedia.
Additional items can be added at the time the list is created, or afterward (it is not limited to ten items).
Any user will be able to add his/her own items to the list after it is published, and all items will be eligible to receive votes.
Each user can only vote once on a Top 10 List. A vote cannot be changed once entered.
See also
Edit
Further help and feedback
Edit
Ad blocker interference detected!
Wikia is a free-to-use site that makes money from advertising. We have a modified experience for viewers using ad blockers

Wikia is not accessible if you've made further modifications. Remove the custom ad blocker rule(s) and the page will load as expected.