The layout of Fandom refers to the style and location of everything you see on a Fandom page. Another term for layout is skin, and it is what all readers and editors see when they visit a community. Fandom offers two skin choices: the default skin and Monobook. Both are outlined below.
Default layout
Edit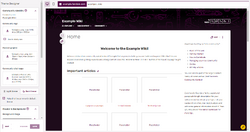 The standard layout of Fandom is what most visitors and editors see when they read, edit, and comment on a community. This layout can be modified for specific communities with the Theme Designer, which is a simple, easy-to-use tool for adjusting your community to match your subject and look as awesome as it can. Each page displays the community's navigation menu, which can be customized by administrators to help guide readers and editors through the community. There are also a number of features that can be enabled and used with this layout. These include Chat, Message Wall, Forum, and Achievements, among many others.
In addition to our primary layout, we have a second skin called Monobook that users can select for their own personal skin in their account preferences. This skin is not officially supported and not all Fandom features work in Monobook like they do in the default layout. If you are a Monobook user and you need help with Monobook, users in the Community Central Forum are a great resource.
Preferences
Edit
The default layout is what anonymous users see when they visit your community. All new features are designed for the the default layout. If you would like to change the layout for your account, you can do so via your preferences under the Appearance section. For example:

Next pages
Edit
Further help and feedback
Edit
Ad blocker interference detected!
Wikia is a free-to-use site that makes money from advertising. We have a modified experience for viewers using ad blockers

Wikia is not accessible if you've made further modifications. Remove the custom ad blocker rule(s) and the page will load as expected.