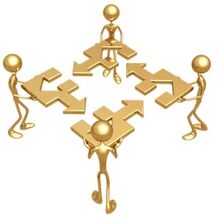 This is your user page. Please edit this page to tell the community about yourself!
Coopération versus Collaboration
Edit
Coopération: partage des tâches entre les différents participants et une mise en commun par juxtaposition des apports de chacun. « Opérer ensemble »
Collaboration: élaboration en commun d'une solution négociée et consensuelle. « Travailler ensemble »
l'apprentissage coopératif va plus loin que le simple apprentissage en groupe. Il les distingue de la manière suivante :
Apprentissage coopératif
Apprentissage en groupe

Interdépendance positive.Hétérogénéité dans la composition du groupe.

Partage de la fonction de leadership.

Responsabilité de chacun des partenaires.

Accent sur la tâche et la gestion de l'interaction pour la réalisation.

Formation pour le développement des compétences au travail en équipe.

Position active de l'agent éducatif qui observe et intervient dans l'interaction.

Absence d'interdépendance.

Homogénéité dans la composition du groupe.

Un leader par groupe.

Responsabilité de soi-même.Accent exclusivement sur la tâche.

Méconnaissance des compétences requises pour le travail en équipe.

Position passive de l'enseignant qui ne prend pas une place d'acteur (médiation) dans l'interaction.