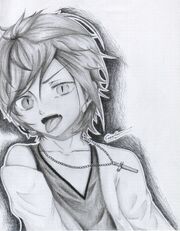 Christine Czeslaw is an Original Character (OC) that made by Maria Teresa N which an ammateur mangaka, she make Czeslaw looks like her self in akuma mode (Evil Mode), Czeslaw has 2 tails and 2 cat ears with different colors (black and white) and different eye's iris colors (red and blue) which mean she has 2 different personality. Czeslaw has black hair , using eye glasses, and always wear a cross necklace and a silver ring.
About Maria Teresa N (Czeslaw Creator)
Maria now making an 1 scene comic which have title "Bandage" with have characters name: Kibou Eikou, Rui Hikari, and Kei
(Maria makes a random names XD) she loves Japan o>w<o
(lol sorry for the emoticons)
Maria now is live in Indonesia, Malang. She is a second year Senior High School student (in 2014), she is 16 years old (in 2014), and really love drawing and watch anime.She's dreaming about being mangaka and makes some anime and go to Japan. She's try to studying Japanese Language now.
(sorry for bad english .w."a)