Hi! My name is Elsa Maureen Rosenberg. I am a teenage girl and I'm very active in my Baptist Church. One of the first things I would like to tell you is that I am a Bible-believing, One-True-God-serving Christian and I will support my Lord to the end. Thank you. -Elsa Rosenberg
I am on FanFiction.net and FictionPress.com as ElsaRose01 (Here are the links: FanFiction Account - FictionPress Account)
Just so you guys know a little more about me:
Favorite...
Food: Sausage Gravy and Biscuits
Song: WHAT?! DO YOU REALLY EXPECT ME TO DECIDE?!?!?!?!?
Color: Purple
Music Group: THE PIANO GUYS!!!!
Pairing: Jelsa (Jack Frost + Queen Elsa) or Doctor + Rose Tyler (both are from Doctor Who).
Least Favorite...
Food: Green Rice
Song: Almost everything modern. And I love music.
Color: Orange
Music Group: Oh, but there are so many... I dunno, probably One Direction. (Give me all the hate you want; you won't change my mind.
Paring: Any homo pairings or just people who are horrible together. Now the one I hate the most... Jackunzel (Jack Frost + Rapunzel -- from Tangled). I really want Jack and Elsa together. LOL!
---
So if you want to know a little more about me, you can check out my FanFiction account page or my blog called "Me: Elsa Rosenberg"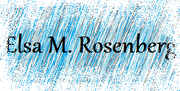 Latest Edits
Edit
Ad blocker interference detected!
Wikia is a free-to-use site that makes money from advertising. We have a modified experience for viewers using ad blockers

Wikia is not accessible if you've made further modifications. Remove the custom ad blocker rule(s) and the page will load as expected.