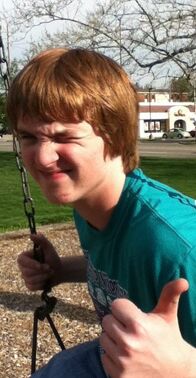 I have no idea what this thing is for. But here we go anyway. My real name, which will confuse some people, is Baley. Only I'm a guy, long story short, my dad is bad at picking names. Things I love.........Music, I'm in band and I'm addicted to singing...but only in the shower, outside of there I'm terrible. Major Geek, nuff said. I'm in Speech and Drama, because I'm one of those kids that wants to pursue acting even though his grandma says it can never happen.....ugh. Oh well though, my life my choices. Which brings me to my last little bit of information. IIIIII am NOT looking for intimate relationships or anything....I'm just looking to converse with other people who share my interests, and maybe make a few internet friends. So yeah.
My favorite pages
Edit
Glee
SKYRIM
Bleach, not the detergent
Ad blocker interference detected!
Wikia is a free-to-use site that makes money from advertising. We have a modified experience for viewers using ad blockers

Wikia is not accessible if you've made further modifications. Remove the custom ad blocker rule(s) and the page will load as expected.