I'M MUSLIM!!

You have to know that before you know anything else about me. x :

)

Edit
INAZUMA ELEVEN and BEYBLADE and ONE DIRECTION and UNION J and SUPER JUNIOR and CHER LLOYD ARE MAH FANDOM. I adore Gravity 5, Little Mix, Big Time Rush, Ed Sheeran, Justin Bieber, D-Unit, Demi Lovato, and Selena Gomez.
I SHIP LARRY, KELSON, ZIAM, AND SHELLETT OKAY!?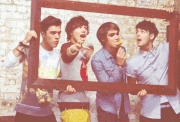 I am ████████ 50% girl. (the other 50% is boy. lln)
Edit
Personal Quote: "Life is a bitch. If it's easy for you, you're doing it wrong."
My favorite wikis
Edit