JAlbor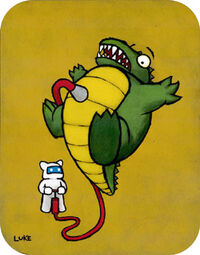 Hi everyone! My name is Jorge and I'm a member of the Community Development team! I'm here to help your wiki community grow by fostering engagement and making the wiki more accessible for all users. Feel free to stop by my talk page and say hello!
About Me!
Edit
I write about all things related to video games, both for work and during my free time! I love a huge array of games, so nearly anything and everything has my interest. I use all these gaming experiences to fuel my writing and the podcast(s) I work on.
Some of my favorite wikis are Mass Effect, League of Legends, Assassin's Creed, Halo, and many, many more.
I also watch a huge amount of television, read a lot of comic books and literature, and watch a lot of movies. Most recently I've been into Game of Thrones, Breaking Bad, and Adventure Time. Curious to know what I've been playing, reading, or watching? Just ask!
Contact Me!
Edit
The best way to get in contact with me would be my talk page or catch me on the Community Cental chat.
You can also feel free to follow me on twitter @JAlbor or if you're up for playing some multiplayer game, you can add me on Steam, Xbox 360 (Shen4891), or PSN (Shen4891)!
My Talk • Contact Wikia