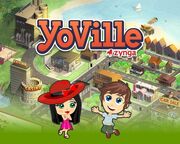 Hi guys! My name is Jack and I work on editing the 
YoVille Wiki
! YoVille is an online Facebook and Myspace flash-run game by Zynga. Players can buy clothes to wear and furniture to design their own houses. I've played YoVille for over 4 years now, so I know a lot about it. I want to help more people know about YoVille and also help give them tips!
You can play YoVille on Facebook HERE and you can see the official YoVille Forums HERE
Ad blocker interference detected!
Wikia is a free-to-use site that makes money from advertising. We have a modified experience for viewers using ad blockers

Wikia is not accessible if you've made further modifications. Remove the custom ad blocker rule(s) and the page will load as expected.