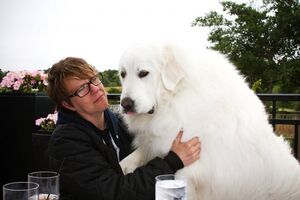 Hello world.
I'm lucky enough to be Fandom's VP of Community! I've been working in various community, customer service and product management jobs for a really long time and I'm excited to be a part of the community here at Fandom.
When I'm not working, you can find me cruising around the Bay Area with my huge dog - he's a rescued Great Pyrenees named Falkor. Check out some of our adventures over on his blog.
I love food and do my best to learn new recipes instead of going out to eat all the time.
My Talk • Report Spam • Report Vandalism • Contact Fandom
A very special thanks to Tama63 for this sweet profile design. Thanks, Tama!