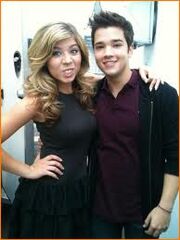 Hi, here is some facts about me!
My Name: Amanda.
Age: U dont need 2 know.
Hair/eye colour: Blonde hair naturally but I've dyed it Brown. Eye color? I have No idea.
Favorite Colour: Black, Blue, Light Grey and Purple.
Favorite Animal: Cats and Hedgehogs.
Cupcakes or Cookies: Cupcakes all the way.
Best TV- show: iCarly, Victorious, Glee, and Desperate Housewives.
Favorite Film: Grease, Jumanji, The Breakfast Club, Coraline and Narnia.
I ship: Seddie (always), Cabbie, Bade, Barly and Chair.
I'm obsessed with: iCarly, Seddie, Youtube, fanfiction.net and Wii.