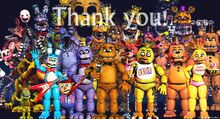 Just something about me:
I am a Sophomore in college and I am working towards becoming an art teacher.
I like reading lore about FNAF, and I have played the FNAF game Freddy Fazbear Pizza Simulator and I plan on playing the 1st and 2nd FNAF games soon.
I love Golden Retrievers.
My favorite wikis
Edit