"Blue Rogues, Attack!"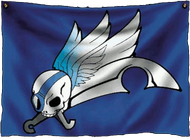 My name is Doug and I'm a member of FANDOM's Community Development Team. I'm here to help your wiki community grow by fostering engagement and making the wiki more accessible for all users. My specialty is video games, but I also dabble in plenty of book and television show wikis as well.

I started playing video games when I was 4 years old, and it seems every year I become more and more obsessed! My favorite genres of games include Turn-based and Tactical RPGs, 2D Fighters, First-person shooters, and Adventure games. My favorite game of all time is Skies of Arcadia!
The games/series I have a serious love for include:
Dark Souls/Bloodborne
Final Fantasy
dot hack
Metal Gear
Resident Evil
Suikoden
Fallout
Destiny
Guilty Gear/Blazblue
Fire Emblem
The Legend of Zelda
My accounts:
Be sure to check out the Community Development Team's portfolio if you'd like to employ our help. We are always willing to help out building the foundations of new wikis, or maintaining larger ones.