Last year, we introduced the Wikia Book Club, and played around with the idea of bringing together Wikia's biggest book fans to read a book together that we could all then discuss. After a few experiments and learning from them, we're excited to announce the relaunch of Wikia Book Club !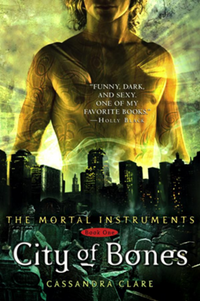 Each month, we'll choose a new book selection. Some months we'll put it out to a vote - such as with this month's selection Mortal Instruments: City of Bones by Cassandra Clare from the Shadowhunters Chronicles  series. But every other month, the Wikia Staff will handpick a selection, working with a publisher to get readers special access to a book author and cool giveaways.
So what are the other big changes? Instead of just chatting with you once during the month, the new page will include features that invite you to participate throughout the month.
Polls and Top 10s - Weekly on characters and plot points from the book. Plus a poll to vote on our next selection.
Spotlight on fan creations - Add your fan art, music playlists, Pinterest boards, or anything else that you create that's inspired by the book, and we'll show it off.
Fantasy Casting - Who should play the major characters from the book - even if there's already a movie on its way or made? This will launch in week 2, so you can catch up on who's who in the book.
Chat module and featured blog posts - Where members can discuss what's happening in the book throughout the month.
Badges - Later in the month, we'll roll out badges to users who sign up by creating a profile on bookclub.wikia.com and read along with us.
Expert Showacse - And in the last week of each month, we'll organize a Hangout with members of the book's community as well as members of the Book Club to chat about the book. In most cases, we'll work with publishers to get access to the book's author, and we'll collect questions from readers to ask the author directly in writing. And in VERY special cases, we'll get the author to join us for the chat!
Whether you're re-reading City of Bones or reading for the first time, we hope we can make it more fun reading it together. So come read along with us!
On top of launching the Book Club program, we're also launching a new spotlight hub for our Books communities called Wikia Books . We have over 7,500 book-related wikias, and on Wikia Books, we'll shine a spotlight on those communities as well as the fun things they're doing. If you're a part of a book community that's doing something exciting that you'd like to see highlighted, let me know.
Thanks, and happy reading!
Want to stay up to date on the latest feature releases and news from FANDOM?
Click here to follow this blog.
Interested in learning more about community management on FANDOM?
Click here to view our community management blog.