For the last four years, we've had a huge presence at New York Comic Con, which is held every October in New York City. This year was our biggest event ever, as we brought Fandom powered by Wikia directly to the show floor! We hosted our Fantasy Food Truck for the third year in a row, partnered with BBC America's new series Dirk Gently's Holistic Detective Agency to create an interactive escape room, and we teamed up with Twitch to host a series of panels featuring a number of special guests.
Not only did this let us showcase our new brand in a big way, but it also brought the power of your communities to a massive audience. The event was a blast! Here are some of the highlights.
Fantasy Food Truck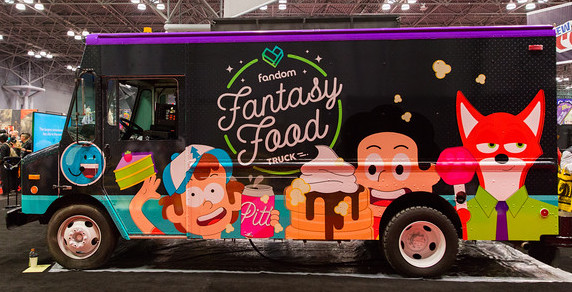 This year's Fantasy Food Bracket Tournament was bigger than ever, with over 250,000 votes. As always, the top four foods chosen by the community made it to our Fantasy Food Truck at Comic Con. The Food Truck was a bigger hit than ever before—and that says a lot considering how popular the Food Truck has been in the past!—as we served 500 people a day. The creators of Battle for Dream Island and Gravity Falls, as well as the admins from Gravity Falls Wiki and Steven Universe Wiki, even came by to sample the foods from their fandoms.
Here are the Fantasy Foods that we served: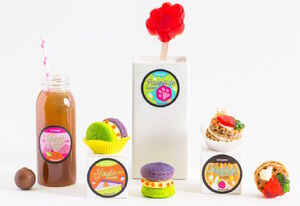 By highlighting your choices and bringing these wikis to the forefront, we were able to put Fandom communities front and center for our largest event audience ever!
Dirk Gently's Escape Room
Dirk Gently's Holistic Detective Agency is an upcoming BBC America science-fiction detective series, starring Elijah Wood and Samuel Barnett. Fandom helped promote the show by creating a one-of-a-kind escape room for everyone at Comic Con to explore.
The escape room was modeled after the detective agency featured in the show. While I was not able to finish all of the clues myself, there were hundreds of winners who came through and solved the escape room! Series creator Max Landis and a number of the show's stars went through the experience as well. Check out a few photos from the escape room below.
Fandom and Twitch's Livestream Village
Fandom and Twitch teamed up to bring everyone at Comic Con some of the hottest events at the convention. Every 15 minutes, entertainment and comic guests were interviewed on the stage. The comic book god, Stan Lee, came by the stage for one of the most popular panels. We even had Adam West from the 1960s Batman TV series stop by the Food Truck!
We also saw celebrities from The Magicians, Shadowhunters, The Expanse, and more!
This was our best New York Comic Con yet, and we can't wait to do it again next year. We hope to see you there, and all our other shows in the future!
Want to receive updates on the latest Staff blog posts? Then click here to follow this blog.