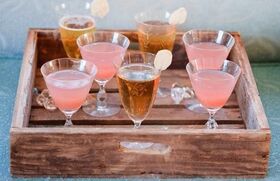 This year we are taken a turn from egg-white cocktails, fresh herbs in drinks, and fruity syrups to a whole new world of cocktail trends. From umami cocktails to beer ice cream popsicles, we have a few fun cocktail trends in store for you. With the help of Wikia's resident drink experts, we present the next "it" cocktails of 2014.

We're not talking Long Islands here. We are exploring the new world of tea mixology. Keep your eye out for "tea-tails" because they are the next big thing on the drink scene.
The Lemon Tea Fizz has freshly brewed Black Darjeeling tea, ginger syrup, gin, and sparkling water. Our favorite part of this recipe is the homemade tea ice cubes (recipe included). Another fun "teatail" is the Dutch Green Tea cocktail, which is the ultimate refresher, with green tea, fresh lemon juice, agave nectar, elderflower liqueur, and VodkaHerb.
For something a little bit different, would you fancy a Mar-TEA-ni? Cocktails admin, Sings-With-Spirits, said, "One trend I'm observing is a return to the classics… with a twist." A Marteani is, you guessed it, a martini with a tea twist.

You may have heard of "umami" from the popular burger chain, but umami is known as the "fifth taste". Umami directly translates as "pleasant savory taste". Umami has now made its way from burgers to cocktails.
Umami cocktails normally have some kind of salty, savory element like olive juice, soy sauce, or even pickle juice (picklebacks anyone?). The Black Helicopter cocktail has soy sauce, mezcal, and Barenjager. This cocktail is smokey, salty, and has a sweet and bitter finish.
If I told you that butterscotch schnapps and bacon-infused vodka was a good idea, would you believe me? Give the Bacon Martini a try. Another simple umami drink you should try is the Dirty Frenchman, which mixes tangy olive juice with sweet white wine.
Sings-With-Spirits
 and our latest Lifestyles Community team member,
CzechOut
both pointed to carbonated cocktails as a hot new trend.
Sings-With-Spirits
said, "Spring always seems to get the bubbly out of people, so what better way of doing that than with drinks featuring bubbles? No, not sparkling wine… that's cheating."
Sparkling cocktails take it a step beyond Champagne and sparkling wines...we're talking about classic cocktails directly infused with Co2. You get the bubbles without watering down your cocktail with sparkling water. Give the Pear Amaretto Fizz or the Carbonated Negroni a try.
Another one of our favorite carbonated cocktails is the Japanese Link. This fizzy cocktail is a mixture of Tanqueray gin, St-Germain Elderflower Liqueur, and fresh white grapefruit juice. This is the ultimate Spring cocktail.

Beer Cocktails have been hitting the drink scene hard this past year, but the latest trend kicks it up a notch. Poptails, aka cocktail popsicles, with beer are finally here. One of our designers, Meganmcgowan, is a regular at Diablo in Los Angeles, which serves their own twist on the Michelada. They serve a beer with a spicy tomato juice paleta popsicle, which you can lazily stir into your beer. Now THAT is what I call a beer cocktail.
A simpler do-it-yourself beer popsicle is the Lemon Pale Ale Popsicle, which includes your favorite pale ale, freshly squeezed lemon juice, and sugar.
Now prepare yourself for the poptail that will rule all other poptails...the Black and Tan Beer Pop. This is no ordinary beer popsicle. The first layer is a mixture of cold brown ale beer, sweetened condensed milk, vanilla, and whipping cream. The second layer includes cold stout beer, chocolate syrup, and more condensed milk and cream. This sweet cocktail really deserves to be called a dessert.



is Wikia's latest Community Development addition, but he is also a longtime Wikia user. He thinks that this year's cocktails will turn to simple, classic, "Bond-style" versions. He also foresees the popularity of flavored wines (yum!), Slovenian wines, and the Walking Dead blood red beer.


is the Cocktails admin. She predicts a "return to the classics", like CzechOut, but rather classics with a twist, like a Marshmallow Vodka Martini or a Passion Fruit rum Cuba Libre. Another popular drink she recommends is the 43 con Leche, which is milk with orange liqueur and a dash of cinnamon.

is our resident Community designer (she designed our beautiful header above!). She is a trendsetter and trendspotter, eyeing all of the upcoming cocktail and food trends.
Want to stay up to date on the latest feature releases and news from FANDOM?
Click here to follow this blog.
Interested in learning more about community management on FANDOM?
Click here to view our community management blog.
---
---