The season 2 of the Flash is almost at its climax and with each new episode, Grant Gustin (Barry Allan) proves that he has been rightly chosen as the Flash. The way they have changed his role from the self-doubting superhero to an optimistic confident one is truly astonishing. It is actually sad that we won't be seeing Grant Gustin as The Flash in the feature film of this character and I feel that Grant Gustin deserves a chance to play this role perfectly for everyone to love, as we do already.
While it has been announced that Flash (Grant Gustin) will not be featuring for 'The Flash' movie, Ezra miller has been cast for the role of the Flash. Now this news was rather disappointing for the TV show fans who are actively following Grant Gustin's 'Flash'.
Since the starting, we have been watching Grant Gustin's version of The Flash grow and to this day it keeps on growing. We saw The Flash becoming one of the top-rated shows in the history of CW right since its initial phase of airing, and the show seems to grow every passing week.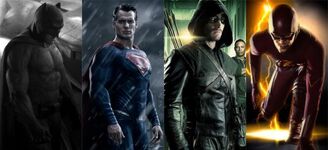 Yes, I'd totally agree with the fact that the TV shows and the feature films are kept separate but it's about a persona, which has been developed amongst the fans. It's amazing for the dedicated fans who follow Grant Gustin's Flash very actively how he fits the role perfectly as both, 'Barry Allen' and 'The Flash'. Similarly, I would like to share the notion of how Stephen Amell from the 'Green Arrow' will do superbly well in a feature film and would make a great addition to the upcoming Justice League series.
While how fans think differently, the views of Zack Snyder were totally different when he stated to the Daily news, "I just don't think it was a good fit." In addition to this statement, he also added, "I'm very strict with this universe, and I just don't see a version where… that (tone is) not our world."
This is exactly where I would say DC should replace Ezra Miller with Grant Gustin and not because I think Ezra Miller doesn't reach up to that level to play this role. I say he'd do great as The Flash but it's about the image in our heads. For example, if I say, "my name is Barry Allen and I am the fastest man alive" I'd just ask the readers of who actually comes in their head? And that's what my point my point is. I am not stating who the better actor is, but it's how the fans feel that Grant Gustin is best suited for the role and it feels he deserves the chance to do a feature film as The Flash.
What do you guys think?