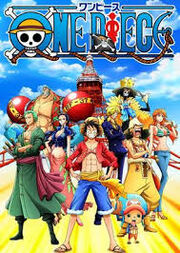 One Piece é focada na tripulação 
Pirata
 comandada pelo Capitão 
Monkey D. Luffy
. O sonho de Luffy 
é 
obter
 o 
maior tesouro do qual pertencia ao Rei dos Piratas
,o
 One Piece. A série tem até agora 756 episódios 
exibidos.
Luffy é o protagonista principal do anime.Ao longo do desenho,o protagonista faz novos companeiros(nakamas).Luffy também sonha em derrotar Shanks para devolver o seu chapéu de palha(mugiwara em japonês).Atualmente One Piece está na saga dos 4 Yonkous.  
Ad blocker interference detected!
Wikia is a free-to-use site that makes money from advertising. We have a modified experience for viewers using ad blockers

Wikia is not accessible if you've made further modifications. Remove the custom ad blocker rule(s) and the page will load as expected.