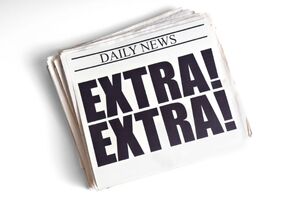 Did you know that the Content Team at Wikia has been
keeping track
of wikis mentioned in local, national, and international news outlets and blogs?
If your wiki has ever been mentioned in a blog post or news article outside the Wikia community, you know that it can be a gratifying validation for all your late nights (or early mornings!) spent editing, formatting, coding, skinning, photoshopping, categorizing, fact checking, etc.
Today, I'd like to highlight four wikis that have recently received some love from the press. Keep in mind that we're really excited about any wiki that gets mentioned — these are just a few examples:
Harry Potter Wiki - Check out the Entertainment Weekly blog post about the Harry Potter Wiki's "Potter in a Tweet" contest. This kind of media mention — where the entire post is about the wiki — is really awesome. Of course, it helps that the Harry Potter Wiki is the world's largest Harry Potter fan site and that so many of you made the #Potterinatweet Wizarding World Contest a magical success.
Pixar Wiki - The day before Cars 2 hit theatres, featuring a trailer for Pixar's secretive new film Brave, RopeofSilicon.com posted an article dishing some scoop on the new movie. Where did they get their information on the protagonist Princess Merida? From a Pixar press release? Nope. They got it from the Princess Merida page on the Pixar Wiki. To infinity and beyond!
RuneScape Wiki - Examiner.com recently ran a great article on RuneScape's "Cryptic Clue Fest III." They included a shout-out to the RuneScape Wiki, praising it as a "reliable source" on the game. The article even described the wiki's faithful editors: "Although information has the potential occasionally to be incomplete or misleading, refreshing the page usually alleviates that because members are always fixing the errors they spot." Way to go, RuneScapers.
Food Truck Wiki - Foodista.com recently gave their "blog crush of the day" award to the Food Truck Wiki. Started by Christina L., this two-month-old wiki received well-deserved props for the way it organizes food trucks by city. If you're hungry and wondering where you can find a taco food truck in your city, check out the Twitter Feeds by City category page.
Wikia staff members use Google Alerts to help us keep track of wiki mentions. If you see a wiki referenced in a news article or blog post, drop a note on my Talk Page with a link so that I can add it to the Wikis in the News page on Community Central.
Be sure to read Sarah M.'s Tips for Getting Your Wiki in the News and Xean's Tips for Promoting Your Wiki for more advice.
Has your wiki been mentioned in the news? Do you have any tips and tricks for getting press mentions? Please leave a comment below.
Want to stay up to date on the latest feature releases and news from FANDOM?
Click here to follow this blog.
Interested in learning more about community management on FANDOM?
Click here to view our community management blog.