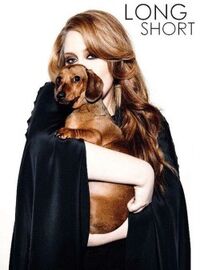 Did you know that Adele has a dachshund she named Louie after he started howling to a Louie Armstrong song? Or that it's rumored Lady Gaga will be performing both the opening and closing songs at the 54th Grammys? Or that Alexandre Desplat is up for a Grammy for his Harry Potter and the Deathly Hallows Part 2 score?
Pretty cool stuff, right? We definitely think so, and it's all information that Wikia's music communities have been busy chronicling. So to make sure YOU know all about the amazing efforts of our rapidly growing music wikis, we're hosting a Countdown to Music's Biggest Night.
Starting this Wednesday, February 1st on the Music Wiki, we're counting down the 12 remaining days to the Grammys in many ways. Each day we'll be bringing you news and interviews from Wikia's Music Communities and we'll be hosting our first ever Grammy Pool where you can vote on your picks in top categories for Best Album, Best Song, Best Artist, etc. Whoever gets the most correct predictions wins our grand prize!
And to make sure we can all share Grammy predictions with each other (only AFTER the ballot page has closed, of course), we'll be hosting a LIVE CHAT (a.k.a. Grammy Gabfest) during the telecast so we can all be part of Music's Biggest Night in real time, together.

So stop by to view the daily calendar where we'll bring you everything Grammys. By the way, did you know that Bruno Mars, whose hit song "It Will Rain" featured on the Twilight Breaking Dawn Part 1 soundtrack, received 6 Grammy nods this year?
So come and join the fun right now on the Music Wiki!
Want to receive updates on the latest Staff blog posts? Then click here to follow this blog.