Ingredientes: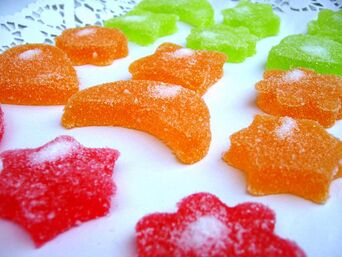 - Un sobre gelatina fresa
- Un sobre gelatina naranja
- Un sobre gelatina lima
- 3 paquetes gelatina neutra en hojas
- 200 g azúcar
- 200 ml agua
Preparación:
Primero ponemos en un cazo el agua e hidratamos un paquete entero de hojas de gelatina. Una vez hidratadas ponemos el cazo al fuego y añadimos el azúcar, removiendo con ayuda de unas varillas.Cuando se haya disuelto todo, incorporamos un sobre de gelatina de sabor y dejamos al fuego hasta que se mezcle todo, sin dejar de remover y sin que llegue a hervir.Pasamos la gelatina a un molde untado ligeramente con aceite, dejamos que se enfrie y guardamos en la nevera durante unas horas. Repetimos la misma operación con los dos sobres restantes.
Una vez estén listas las gomitas, las sacamos con unos cortapastas de formas variadas divertidas (estrellas, ositos, lunas, etc) y las rebozamos en azúcar.
Una vez rebozadas las dejamos en el frigorí­fico, a poder ser en un bote hermético, una hora más.
Ad blocker interference detected!
Wikia is a free-to-use site that makes money from advertising. We have a modified experience for viewers using ad blockers

Wikia is not accessible if you've made further modifications. Remove the custom ad blocker rule(s) and the page will load as expected.