Comments

0
Ensalada con vinagreta de mandarina
Ingredientes:
- 8 mandarinas
- 1 cebolla
- 1 echalote
- 1/2 taza de vinagre de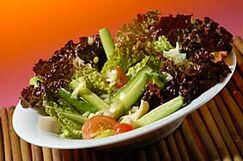 manzana
- 1 taza de aceite de oliva
- 1 taza de palmitos en conserva
- 1 taza de jitomates cherry
- 1 taza de pepinos baby
- 16 hojas de lechuga sangría
- Sal y pimienta
Preparación:
Primeramente extraemos el zumo de las mandarinas y lo colarmos.Picamos muy finamente la cebolla y el echalote. Mezclamos en un tazón la cebolla, el echalote, aceite de oliva, vinagre, pimienta y sal. Dejamos reposar la vinagreta durante 20 minutos antes de servir.Cortamos los palmitos, los jitomates y los pepinos.Emplatamos de la siguiente manera, colocamos lechuga, jitomates, palmitos, pepinos y bañamos con la vinagreta.Puedes crear tus propias vinagretas con diversas frutas.
Ad blocker interference detected!
Wikia is a free-to-use site that makes money from advertising. We have a modified experience for viewers using ad blockers

Wikia is not accessible if you've made further modifications. Remove the custom ad blocker rule(s) and the page will load as expected.