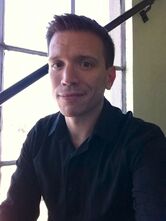 I'm Bert, the newest addition to the Community Support team. I am very excited to be joining Wikia, and to be working with all the diverse communities here. I am looking forward to helping to make things better any way that I can. Previously I was with liveBooks, a software & web design company where I also got to work with a great group of creative and interesting users.
My interests range from comics, science fiction, horror and comedy to pop music, life sciences, astronomy and cryptozoology. Wikis that I visited frequently before starting at Wikia are Memory Beta , Marvel Database , Muppet Wiki , Teletraan I and Wookieepedia . I know that list will be growing exponentially very soon! In my non-media life I enjoy the beach, travelling, hiking, chicken tikka masala and my two small dogs.
So far I have been very impressed in my interactions with Wikians -- lots of positive energy, good humor and detailed bug reports. I'm looking forward to talking more with everyone in central chat and elsewhere.
Want to stay up to date on the latest feature releases and news from FANDOM?
Click here to follow this blog.
Interested in learning more about community management on FANDOM?
Click here to view our community management blog.