Ad blocker interference detected!
Wikia is a free-to-use site that makes money from advertising. We have a modified experience for viewers using ad blockers

Wikia is not accessible if you've made further modifications. Remove the custom ad blocker rule(s) and the page will load as expected.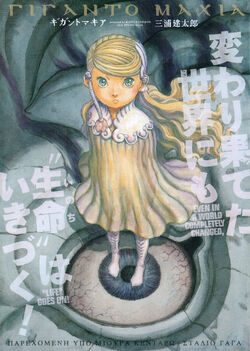 Gigantomakhia is brand new manga created by legendary manga artist and writer Kentaro Miura, well known for known his work on Berserk.
Gigantomakhia is a six chapter mini-series and is set 100 million years in the future, it's about an epic war between the forces led by Zeus and the nether forces led by the giant Alcyoneus, and follows the story of Delos and Prome. -Gigantomakhia