From time to time on the staff blog we like to update you on the expansions and milestones we've reached here at Wikia. Beth Fox is a recruiter at Wikia, working to help grow the Wikia Team.
An important factor in Wikia's success are the great people who work here. Just recently you heard from the newest members of the Community Support Team, Tim and Bert, but we also have lot of wonderful people behind the scenes - from accountants to back end engineers - who you don't often see or hear from. I know that not everyone is as lucky as I am, working with some wickedly smart people, trying to solve some seriously tough problems, and being able to just hang out and have a few beers with my coworkers at the end of the day in our brand new kitchen!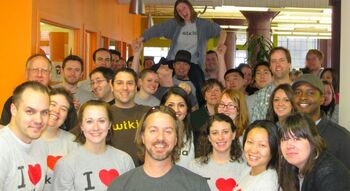 Everyone adds their own uniqueness to this huge jigsaw puzzle we call Wikia. From an engineering perspective, we have some very cool things going on. Did you know that Wikia, and the CDN we developed in-house and spun off as a separate business, run the only ENTIRELY SSD based production environments on the internet? That's pretty awesome!
When I chat with Wikia Staff, I often hear they find Wikia an environment where you are given "a lot of trust to do your job" and "very relaxed about people being who they are". Most recently another Wikia Staff told me that, "It's amazing working with people who are driven by their passions to contribute -- and this includes both Wikia users and employees." From designing cool stuff for our huge ComicCon presence to brainstorming on how to make the next best dashboard, engineers, designers, ad ops, and community managers all contribute in a big way to making Wikia a successful and fun place to work.
Today I wanted to let you know that not only do we already have great people, but we are looking to hire even more! We're searching for people with passion and smarts and who enjoy working in a collaborative environment. If you feel you are up to this challenge, please take a look at our current openings at http://www.wikia.com/Careers. If you have any questions, just let us know and we look forward to hearing from you!
Want to stay up to date on the latest feature releases and news from FANDOM?
Click here to follow this blog.
Interested in learning more about community management on FANDOM?
Click here to view our community management blog.