Hey everyone, I'm Miguel Lopez, Programming Manager for Video Games on Wikia. I wanted to let you all know that we've just recently kicked off Wikia LIVE Games, a series of gaming live streams on our Ustream channel. We're playing live Monday, Wednesday, and Friday every week at 11:00am PST, and we go for at least a half hour.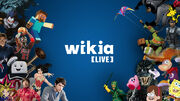 We're keeping things a bit informal as we fine tune our format and build out our setup, but you can definitely count on us to be online and streaming (or at least attempting to) at the designated times. Unless we have a good reason not to, we'll be playing retro games on Mondays, new releases on Wednesdays, and lesser-known independent games on Friday. What constitutes a "good reason"? For one, if a developer wants to drop by on "new release" day and show us their upcoming game, we won't turn them away.
So, why live streaming? Odd as it may sound to someone who's never tried it, all of us on the games team love to watch other people play games over the internet, for a whole bunch of different reasons. Sometimes, it's fun to witness someone's candid perspective on a game you know well. In other cases, it's thrilling to watch an expert show off their virtuosity (no danger of that when we're playing, I assure you). Frequently, you just want to find out the solution to an in-game problem that's been stumping you.
The common denominator in all these cases is personality. When you play a game with someone, you get a very specific glimpse into who they are. We want to share that with you. Once we're fully up and running, we'd love to have you folks suggest games to play, hop into multiplayer matches with us, and even join us on the streams. We have some special events in the works to kick off this effort in earnest, but in the meantime, joins us as we kick in the tires on our streaming setup, and continue to evolve our style.
Here's a list of what we'll be playing for the next few sessions:
Friday, 9/13: Amnesia: A Machine for Pigs
Monday, 9/16: GTA IV
Wednesday, 9/18: GTA V
Friday, 9/20: Legend of Dungeon
If have any suggestions as to what we should play, don't hesitate to leave a comment. Also, we'd love to know if any of you out there are active on the streaming front. If so, let us know! http://www.ustream.tv/wikia
Want to stay up to date on the latest feature releases and news from FANDOM?
Click here to follow this blog.
Interested in learning more about community management on FANDOM?
Click here to view our community management blog.