TAYLOR SWIFT!!!
TAYLOR SWIFT IS AN AMAZING SINGER AND SHE IS VERY BEAUTIFUL!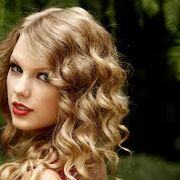 SHE IS 23 YEARS OLD AND SHE'S BEST FRIENDS IS SELENA GOMEZ!SHE HAS WRITE SO MANY SONGS ABOUT HER BREAKUPS AND SHE HAS MANY LOVE SONGS TOO (LIKE <<LOVE STORY>>)!SHE HAS PLAY THE GIRL'S VOICE AT LORAX .
TAYLOR'S SONGS:
I KNEW YOU WERE TROUBLE (FOR HARRY STYLES)
DEAR JOHN
DECEMBER
LOVE STORY
YOU BELONG WITH ME
I'D LIE
AND MORE!
SHE HAS AN AMAZING CONCERT WITH SELENA SINGING <<WHO SAYS>>!SHE'S NEWER SONG IS <<EVERYTHING HAS CHANGED>> WITH ED SHEERAN!
AND THIS IS A SLIDESHOW BUT I THINK SOMETHING HAPPENS!WHATEVER!BTW I NAME ME BLACKSNOWWHITE CAUSE I WAS WRITING SOMETHING DIFFERENT!!!!!!!!!!
MORE FOR TAYLOR SWIFT...AT ME!
Ad blocker interference detected!
Wikia is a free-to-use site that makes money from advertising. We have a modified experience for viewers using ad blockers

Wikia is not accessible if you've made further modifications. Remove the custom ad blocker rule(s) and the page will load as expected.