WARNING! This Wikia contains content that may not be suited for all audiences. Viewer discretion is advised!
---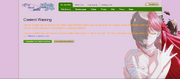 Hey Wikians! My name is Auburn and I'm a 19 year old female full-time blogger. I decided to look at a very interesting Wikia today that requested to be reviewed. I have compiled a specific set of criteria and they are as follows: Information Accuracy + Comprehensive Subject (20), Organization (20), Presentation + Format (20), Friendliness + Collaboration Effort (20), Rules & Standards (20), and finally, an overall community rating out of 100.
Reference link: http://elfen-lied.wikia.com/wiki/Elfen_Lied_Wiki
Synopsis
Cool! A Wikia that has a statement for its title! Heh. I have heard of the Elfen Lied series, but I had never looked into it myself. I think this is going to be a very fun experience! The community is based around character descriptions, locations, and all that awesome jazz. The question is, did Elfen actually lie? Will this Wikia be of the highest quality? Auburn will let you know with this review and analysis!
Information Accuracy (10)
Wow! So many articles contain a lot of really cool information! Biography, personality, events, and more. A lot of packed content full of meaningful and concrete words. I will give this a perfect
10/10
rating for such enjoyable-to-read pages.
Comprehensive Subject (10)
Is "Elfen Lied" a known series? Would a first-time reader understand its basis? Is it a popular theme or topic to the current trends around the world? I would say yes. Anime and manga has only been further popularized in recent years for most age groups. I would say that if you were a teenager and never knew about this subject, and simply read the "Elfen Lied (Manga)" page: You would learn everything involving Elfen Lied with ease.
10/10
rating for a Comprehensive Subject.
Organization (20)
I checked the organization of the categories, and there are lots of them! All are distinguishable and organized. Some users may consider some overbearing and unnecessary, but I kinda like it. And every category has a description as well! A 
19.25/20
 rating for minor issues and complications.
Presentation & Format (20)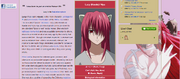 Presentation and Format could be debated with this one, honestly. I personally find the pages to be appealing, logo is pleasant, and everything looks to be in order. I enjoyed my time in this Wikia. However, I did find some minor issues.
17/20
rating for this category.
Friendliness & Collaboration Effort (20)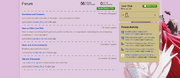 I had checked the forums for activity. That was extremely slow in activity, months in fact since a user had used them. However, the Wikia does have some nice collaboration by associating their community into both a Facebook and Twitter group. Unfortunately, I checked their activity and the Facebook page hadn't been active in years. As for the Twitter account, it's somewhat active in posting but the name is misleading... Hmm. A
4.3/20
rating in Friendliness & Collaboration for this one.
Rules & Standards (20)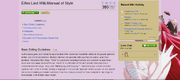 The Rules and Standards are really well put together! Let's see - There's a Policy landing page and eight specified policy pages filled to the brim with well-thought out rules and regulations. I really was blown away by its organization! This receives a nice
18.8/20
rating for it's thorough rule set.
TOTAL SCORE: 79.35/100
Conclusion: Needs more collaboration either within its chat, forums, and social medias.
~ Blog Author Auburn. <3