Hey, it's Auburn again! For those who don't know me, I'm a 19 year old female full-time blogger. I decided to look at yet another Wiki that requested to be reviewed. I have compiled a specific set of criteria and they are as follows: Information Accuracy + Comprehensive Subject (20), Organization (20), Presentation + Format (20), Friendliness + Collaboration Effort (20), Rules & Standards (20), and finally, an overall community rating out of 100.
Synopsis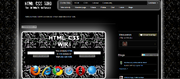 The "HTML & CSS - The Ultimate Database" Wikia is a community based on well, HTML and CSS coding. It looks very professional and well-formatted. It also brags righteously about its Wikia stats: 12,065 edits to 647 articles since June 11, 2010. But... is it really "The Ultimate Database" as it proclaims itself to be? We'll find that out!
Information Accuracy (10)
I browsed their "Wiki Activity" feed and begin my analysis. I was shocked because the activity is slow as molasses. Nothing is being done, but does this mean the pages have innaccurate information? Nope! All of the pages look very thought out and their content is descriptive and helpful. This Wikia receives a
9/10
rating in Informative Accurary.
Comprehensive Subject (10)
As a non-HTML and CSS coder, I had little to no idea how everything is done. This Wikia really did support me with their informative pages and content. Like their Wikia name suggests, it actually is a nicely developped Wikia about their topic. There is little flaws to be said other than certain descriptions being needed.
8.5/10
rating for being a Comprehensive Subject.
Organization (20)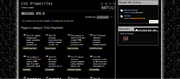 I decided to check out their categories list to see how they organize themselves. I was not disappointed, this community really does know how to label each and every one of their articles! It was really satisfying to browse through the understandable category titles and find the right pages associated with them. Other than community organization and stuff like that, this place really does look nice and structured. A rating
17.5/20
on Organization for nearly being perfect, the exception being community organization.
Presentation & Format (20)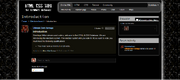 The formatting and presentation of each of their pages are excellent. Each word full of value and coherence, and most pages even had a little customized infobox on the side filled with neat informative content. The only issue I have with their presentation is... that there's not enough! Each article is about a computer screen-length in size, so additional descriptive content is needed.
16/20
of a rating in Presentation and Format for a very respectable effort and dedication to their pages.
Friendliness & Collaboration Effort (20)
I decided to check the forums and... Yikes! There's nothing at all! I would have thought that this community would go ahead and discuss and share their codes. You know, talking to each other about coding topics and exchanging template formats and the like. There was absolutely nothing on-site, so I was disappointed as I actually was looking forward to seeing those particular exchanges. This Wikia receives a 2/20 for Friendliness & Collaboration Effort, and the whole place looks like it has an ego. Eeesh!
Rules & Standards (20)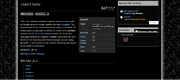 The Rules and Standards did not disappoint! I decided to hover over the "Community" tab over on their Wiki Navigation bar and click on their policies. There were a total of NINE articles on their rules, not even counting the policies hub page! That is TEN pages on describing what they do if an issue occurs. I was very happy in knowing they take everything extremely seriously. They receive a
19/20
rating on Rules & Standards for nearly a perfect layout, other than some weak aesthetics that are needing improvement.
TOTAL SCORE: 72/100
Conclusion: Overall satisfying, but there is zero communication or discussion within the community!
~ Blog Author Auburn. <3