Hey, my name is Auburn and I'm a 19 year old female full-time blogger. I decided to look at a very unique Wiki that requested to be reviewed. I have compiled a specific set of criteria and they are as follows: Information Accuracy + Comprehensive Subject (20), Organization (20), Presentation + Format (20), Friendliness + Collaboration Effort (20), Rules & Standards (20), and finally, an overall community rating out of 100.
Reference link: http://scarfheroes.wikia.com/wiki/Scarf_Heroes_Wiki
Synopsis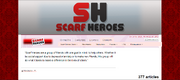 Much like all websites, Wikia has a lot of people in it that need help. "Why don't they just go to Community Central Wikia?" Well, that's not what I mean. There are definitely users that feel lonely and sad, and they need company. This is where the Scarf Heroes Wikia comes in! Their front page description even says it! "Scarf Heroes are a group of friends with one goal in mind; to help others. Whether it be social support due to depression/anxiety or to make new friends, this group will do what it takes to make a difference in the lives of others." (Scarf Heroes Wikia Homepage Description, 2015). The question is, is this true to what the Wikia is about? Let's find out!
Information Accuracy (10)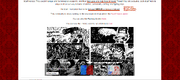 I checked the page content and there's a bunch of cool characters with their own personality, weapon, and backstory! Considering this is a Wikia about helping, what's with the characters? Well, I read it somewhere that this group is also working toward producing their own anime. Eeesh. That's a long shot, but hopefully they'll continue to keep it together and achieve that goal. A really cool thing is, well... I'll let the quote do the talking. "It is to make every user that goes through registration feel cared for, respected, trusted, all while being in a calm and luxurious environment." (Scarf Heroes page, 2015). Some characters are a bit iffy in development, but it's a rad concept.
9.4/10
rating in this category.
Comprehensive Subject (10)
Is "Scarf Heroes" a comprehensive subject? Do you know what they're all about just from the title? Not really. However, is their theme and role needed on Wikia? Most definitely yes. They are very descriptive in what the topic is about, too. Only issue I see is that readers need to connect that association. Scarf Heroes are people that want to help others by being their friend, not just heroes with scarves as most people would imagine.
7.3/10
rating for it being not associated, but with good descriptive cohesive content.
Organization (20)
Organization would be key especially for this Wikia, y'know with all of the users registering. It's so far not bad. All pages have categories, it looks like. I've found some red links on pages, but for the most part. It needs more finer attention to categories and navigation placement, in my mind. It's still great and nice to go page-to-page. No maps for their Map feature, either though. Eeeesh.
13.5/20
rating for this category.
Presentation & Format (20)
Okay. Four words. These pages are beautiful. A lot (not most) have a beautiful unique infobox with their own differentiated colors. Many pages also has these tab things for the character's history, role, battles, events, and quotes. It doesn't stop there! Pages have a wonderful color scheme surrounding the content with beautiful designs and visuals which highlight the text. Only problem? Not all pages have this. Honestly, if every article had what was listed above. It would have received an Auburn badge for perfect visuals. Alas, it will have to settle for a score of
19.2/20
in Presentation and Format.
Friendliness & Collaboration Effort (20)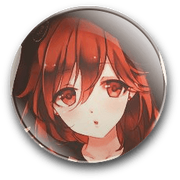 This Wikia is one of the most friendly and social ones I've ever seen. No really, their forums are booming with polls, discussions, and news. They have every social media imaginable, and they're active to boot! Not to mention, a 24/7 active chat with users in it waiting to offer you a shoulder to cry on. Yes, this chat includes a chat moderation bot, too. They even make blog posts about issues, facts, and other stuff and all cutely comment on each giving their support. This is the best Wikia for Friendliness and Collaboration, so not only do they get a perfect score of
20/20
, but they also receive the "
Auburn Badge of Outstanding Friendliness & Collaboration
" which I like to call "
Wikian Heroes Badge
". I urge you to check them out and see what they're all about.
Rules & Standards (20)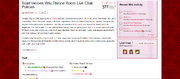 Rules and Standards are good too. They cover everything needed such as editing, chat, reference, and they even have an honor code. I find that really cool that they follow a protocol when it comes to helping others. Not perfect, but it's well-thought out, I can tell. A
17.5/20
rating for good rules.
TOTAL SCORE: 86.9/100
Conclusion: Lovely group of people. They should improve their organization and character development a bit more. Also, make that Maps feature available!
~ Blog Author Auburn. <3