Hey, Auburn is here for another review. I'm a 19 year old female full-time blogger. I decided to look at my first Wiki that requested to be reviewed. I have compiled a specific set of criteria and they are as follows: Information Accuracy + Comprehensive Subject (20), Organization (20), Presentation + Format (20), Friendliness + Collaboration Effort (20), Rules & Standards (20), and finally, an overall community rating out of 100.
Synopsis
TheLastOfUs Wikia will be the topic for this blog. I'm sure many of you have heard of this critically acclaimed game that sparked the gaming community and online multiplayer as a whole. This Wikia represent anything and everything about the game and its lore. The community labels itself as an encyclopedia for all things regarding it and proudly displays its content, the question is: Is this true? Don't worry! Good ol' Auburn will answer this!
Information Accuracy (10)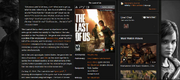 When I was browsing the many pages, all information seemed to be in order. They had tons of references, sometimes up to 30 of them on a single article! I really like that everything is concrete in this regard, so they score an exceptional
10/10
rating for perfection with their information.
Comprehensive Subject (10)
Is this an comprehensible subject to a user that has no idea what the franchise is? Well, the homepage and page content are crystal clear in what they want to talk about! That's definitely a good start in my eyes, and it ranges in depth by describing each and every game, character, location, and more. As someone that never played the games and only saw gameplay footage, it gave me tons of interest in buying it. I'll give a rating of
9.0/10
for minor content issues.
Organization (20)
For the Wikia Organization, I checked out their categories and everything seems to be in order. In fact, everything looks professional! Each page is taken care of it looks like, y'know, when it comes to being organized. Weapons, characters, locations, games, media... All of it is placed in categorizing perfection. This earns a very nice score of
19/20
for Organization!
Presentation & Format (20)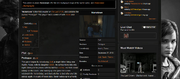 Their presentation is remarkable. The use of the slider on the homepage really did bring emotion about the lore and story of
The Last of Us
. Within their pages display all sorts of visuals appeals: Infobox, graphs, statistics, and more. I was impressed, and in a strange way I felt immersed. I will give a
19.8/20
rating for extremely minor errors.
Friendliness & Collaboration Effort (20)
So, I checked out their forums, and it seems a bit all over the place in terms of subject activity. Some have not been active in months, and others have been active in days. I just don't know, but the admins have been very friendly to new users from what I can see (me being an example). I'll give a solid rating of
14.5/20
in this field.
Rules & Standards (20)
As for rules? Well, it wasn't on the Wikia Navigation bar. So I checked the homepage and thankfully the policies were listed under the slider and description of the Wikia. The Rules and Standards themselves seem to be in order. I liked them.
17.5/20
of a rating for them.
TOTAL SCORE: 89.8/100
Conclusion: A little more work put towards their Collaboration and Policies would be nice. Other than that, go check them out! A nice community and wonderful content.
~ Blog Author Auburn. <3