Visita la entrada original aquí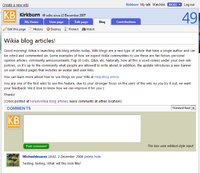 Este miércoles, lanzaremos dos nuevas funcionalidades: Wiki Blogs y el User Masthead
Wiki blogs es una nueva forma para que tu comunidad y tú contribuyan en el wiki. Los Wiki blogs son parecidos a los blogs normales en los que se publican entradas que son atribuidas a un autor en específico, tienen la hora en la que se redactaron y una sección de comentarios. El cambio del wiki es que todos los mensajes son combinados en un blog de la comunidad o en múltiples blogs definidos por categoría. Las entradas de los blogs y los comentarios se grabarán en el espacio de nombres Blog y seran mostrados en los Cambios Recientes.
Los blogs pueden ser usados para escribir opiniones personales sobre los artículos, anuncios para la comunidad, una lista con cosas interesantes, y esto solo son unas pocas ideas. Os animamos a que cada comunidad desarrolle sus propias políticas sobre los blogs para mejorar el uso de los mismos.
Se creará por defecto para tu wiki una página en la que se listarán todos los blogs, con un elemento nuevo añadido al Sidebar. También puede ser que quieras añadir el widget con una lista de todos los blogs a tu portada (como han hecho en Lostpedia, por ejemplo), para mostrar las últimas entradas que se escribieron en los blogs.
Por ahora puedes ver los blogs activos en Lostpedia, Marvel Database y Redwall, y puedes intentar tú mismo en el wiki de pruebas de la comunidad
User Masthead es la nueva sección que aparecerá al comienzo en todas las páginas de usuario que mostrará enlaces específicos para usuario, incluyendo al nuevo blog del usuario. Este encabezado cuenta también con un espacio para que cada usuario tenga su propio avatar. Los avatares pueden ser añadidos/cambiados en Especial:Preferencias y pueden ser manejados como cualquier otra imagen dentro sitio.
Nos hemos dado cuenta de que algunas comunidades no están listas para incluir estas nuevas funcionalidades, así que si prefieres que no se activen en tu wiki, permítenos saberlo por aquí.
En cuanto a la traducción de estas nuevas funcionalidades al español, durante los próximos días estarán completamente traducidas al español, así que no tenéis de qué preocuparos. Igualmente las páginas de ayuda estarán disponibles en los próximos días en español, mientras, si tenéis alguna duda, podéis preguntarnos por aquí y os la resolveremos encantados.
¡Gracias!

Ad blocker interference detected!
Wikia is a free-to-use site that makes money from advertising. We have a modified experience for viewers using ad blockers

Wikia is not accessible if you've made further modifications. Remove the custom ad blocker rule(s) and the page will load as expected.