This latest edition of our "Day in the Life" series will focus on what it's like to be a remote staff member. Wikia has a couple of offices around the world and our main headquarters in San Francisco. What you may not have known though is that not all Wikia Staff members work in one of these offices. Most do, but there are a few of us—myself included—who work in various different parts of the world. I myself live in New Jersey, where I work from home.
On the Community Support team about half of our members also work remotely. In this blog you'll hear from Sean, George, and Tim Q about what their days as a remote staff member are like.
A Typical Day
Sean
Hi there. I'm Sean, and my role here is as Community Manager, Trust & Safety. Here is what my day is like:
7:30: Rise and shine. I make breakfast and coffee. Lots of coffee. I pack school lunches and get the kids out the door.
8:30-11:30: EMAIL RUSH! I like to take advantage of uninterrupted early morning hours and use my east coast location to get the jump on the day's support emails before the SF office starts their day. Time zone advantage FTW! I also try to answer the messages and talk page discussions that have sprung up overnight. Plus, coffee.
11:30-12:30: Workout, shower, lunch. I change out of my basketball shorts and into my finest dress cargo shorts. One of the greatest assets of remote work is the total control you get over the dress code. More coffee.
12:30-4:30: Special Project Funtime. During this block, I still keep an eye on our support email queue, but I mainly focus on more long-term tasks. By now the SF office is awake and our Skype conversations start to come to life. We have multiple channels for different teams and projects. I might have to videoconference in for a quick meeting with a product manager at some point. This is also when I do most of my internal emailing. In the meantime, I will work on researching trust & safety issues like COPPA or revising our copyright help page. Also, more coffee.
4:30-7:30: Various child-related chauffeur and chef duties.
7:30-9:30: Late check-in with the email queue and triage of my ongoing issues. I like to make sure that everything is going well in wiki-land before logging out for the night to spend time with my family. Decaf coffee.
George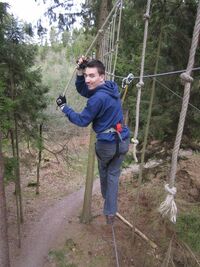 Hello! I'm George, otherwise known as Kirkburn, a member of our Technical Support team. I live in the UK, so these times reflect that:
Midday: start work, check in on emails over some tasty cereal, like Weetabix.
12:15pm: Read over Skype messages since the previous night, check if there's any active issues to deal with - if so, make myself known, see if there's anything I can do to help.
12:30pm: Spend an hour or two going over support emails - that is, the messages you send in to Special:Contact or community@wikia.com.
Around 3pm: Welcome the East Coast US ComSup members (such as Sean).
Around 5pm: Welcome West Coast US ComSup members (the San Francisco office), check if everyone is up to date with any news.
5:30pm Meet with my team - technical ComSup: Tim Q, Rappy, Sactage. Talk about any major technical issues, what we did in the last week, what we plan to do in the next week.
6:00pm: Eat a late lunch.
6:30pm: More emails, more Zendesk, more Skype.
Begin to wind down over the evening, checking in every now and then. Play some Assassin's Creed: Brotherhood (already got AC:Revelations and AC:III lined up ready to go). Realise I forgot to take my cereal bowl downstairs, Weetabix remnants are now rock-hard, leave bowl in sink to soak.
11pm: Weekly ComSup team meeting - open forum to talk about any pressing issues or upcoming features, or just general knowledge sharing and regaling each other with our wonderfully varied accents.
Some unknown time, long after midnight: sleep!
Tim Q
Hi there, I'm Tim, commonly just called "Q", the Director of Technical Support. I've been working here for four years, most of this time braving the long commute the ten yards from my bed to my desk. Here is what my day is like:
10:00: My never-failing alarm clock, a cat meowing at me to feed her, wakes me up and gets me on my way.
10:30: Turning on my computer, first thing I check is my Special:Contact support emails, to make sure I reply to all of our users in a timely and efficient manner.
11:45: Start catching up in our company email system. Wikia now uses a system called JIRA to file our bug tickets, so it's important for me to review every ticket that the team over in Europe worked on while I was sleeping and add any notes, request additional changes, or verify a fix has been pushed into our codebase.
1:30: Like Passion Pit, I talk a walk (or when the weather is nice, a good long jog), for a time to keep myself bathed in glorious Vitamin D.
2:30: I check in with TranslateWiki.net, Wikia's official translation partner, to make sure the hundreds of volunteers across the globe don't have any questions or concerns I can help them with as they continue to make Wikia understandable and useful in their native language.
4:00: This is usually the best time for meetings. Most of our Polish team like staying up late, so I may chat with TOR or Mix about a particular bug or staff tool; Sarah, Sannse and the SF team about things we are working on for Community Central; or sometimes even Grunny is awake in Australia.
5:30: Check in with our VSTF team about how things are going. I've been helping run the VSTF for two years now and these are a great group of individuals. Never a dull moment with these walruses!
6:00: Start to wind down my work day. I make sure I've answered as many user tickets as possible and catch up in my Skype channels. I tend to watch about 30 different staff channels a day, from Engineering to Community Development to the one in which staff talk with you fine members of the Wikia Community.
8:00: San Fran goes to bed and things start to get quiet. I usually am still by my computer, either working on my hobby of being a racing historian, reading a book (I'm currently reading Catch-22 by Joseph Heller and then I'm going to pick up Garrison Keillor's new novel. Any suggestions after that? My house has 10 bookcases in it filled to the brim!), or watching Sherlock, Veep, Arrested Development or whatever strikes my fancy in Netflix.
1:00 AM: TIME FOR DINNER!
2:00 AM: About time for me to go to bed. Between when San Fran goes home for the day and my hitting the hay, I may not be in "work mode" but I always strive to be available in case there is a social or technical issue on Wikia happening. Obviously, the world doesn't wait for anyone and I'm just as happy to help a user at midnight my time as I would be at noon.
Life as Remote Staff
There is a big advantage to working remotely, and that's the ability to set our own schedules. This gives us a lot of flexibility if our personal schedules demand it. Working remotely also lets us work quietly. We won't be interrupted by people who need to talk to us as often, since they can message us on Skype. That's not to say there aren't disadvantages, though. It's easier to be distracted with no one around. Not working at an office can also make us feel disconnected sometimes, but the teams at the office work to make sure that this rarely ever happens.
Ultimately, whether a staff member works remotely is based on what their work preferences are. Some people thrive better on the office environment where it's very busy and there are a lot of people, while some are better working in a more quiet environment. Whether we can work remotely depends on the job we have, but it's great to have that option!
Being remote doesn't mean we're always remote, though. Every few months, we each go to the main office in San Francisco and spend a week or two there. It helps us connect with people we work with, as well as just have general face-time. There's always some great stuff we're able to do. For example, I went to Lucasfilm the last time I was in San Francisco, and Tim Q likes to explore the Bay Area and take as many pictures as he can. There's always an adventure for those of us who don't live in San Francisco.
Do you have any questions about working remotely, or about other aspects of working for Wikia? If so, leave a comment below!
Want to stay up to date on the latest feature releases and news from FANDOM?
Click here to follow this blog.
Interested in learning more about community management on FANDOM?
Click here to view our community management blog.