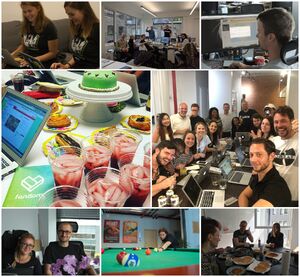 There's something unique about Wikia. Every day when we see staff members come into the office, we only see people who love coming to work in the morning. We love being professional fans, and we love being able to build a platform for you to write about what you love.
We have a number of different teams in all our offices around the world. They range from Community to Marketing to Product and more. Some edit on communities, like you do, more than others and there are new staff members joining us all the time, all throughout the world. That's why, every few months, we set aside an entire day in every office so all employees can edit on Wikia for the whole day.
We call this Wikia Day, and we had our most recent one yesterday!
Community Editing
Every time we have a Wikia Day, the whole company comes together to edit on different communities. Each staff member chooses what team they want to work on, and then that team edits on a community for the whole day. Staff members both new and old (yeah that's right, I just called myself old) get hands-on time with the platform, and everyone gets to write about something they love.
Some of the communities we worked on include Beer Wiki (Team Hop 2 It), The LGBT Project Wiki and Suicide Prevention Wiki (Team Wikia Gives Back), The Great British Bake Off (Team Prove It), The Witness Wiki (Team Witness), and Rul Paul's Drag Race (Team "Don't F**k It Up!"), among many others.
Take a look at those links to see some of what we did yesterday!
Team Fandom
This was our first Wikia Day since the launch of Fandom in January, so a lot of staff members wrote Fandom articles. For most of the 25 staff who worked on Fandom, this was their first time using the platform. To give the full Fandom experience, we walked them through the same process that new Fan Contributors go through. They pitched articles for approval, wrote those articles, and the articles were scheduled for publishing on Fandom. Most of those articles will go live over the next few weeks, and we can't wait to see what they wrote!
A few of these articles have already been posted! I'm a huge Star Wars fan, so I continued my "Secret History" series on Fandom with "The Secret of Poe Dameron." Some of the other articles coming up soon are the Best Disney Princesses, a look at the sigils of Game of Thrones, and the top 5 reasons why Kylo Ren is perfect boyfriend material (I'm particularly looking forward to the humor in that one!), along with many others.
We'll have our next Wikia Day sometime in the next few months! Got any ideas for what communities we should edit on, or what Fandom articles we could write? Let us know in the comments below!
Want to receive updates on the latest Staff blog posts? Then click here to follow this blog.