In 2017 we redesigned the page and article headers at the top of every wiki page as part of a more modern design experience on FANDOM wikis. We couldn't be happier with the way it turned out, but we knew there were a few extra steps we could take to make it even more impactful for logged-in users.
Today we have introduced new shortcuts to the page header that will appear for all logged-in users. These shortcuts include Add New Image, Add New Video, Recent Changes, and All Shortcuts. The All Shortcuts menu includes links to special pages, maintenance lists, and other pages that can be useful to editors and admins. You can see the placement of this new shortcuts menu here: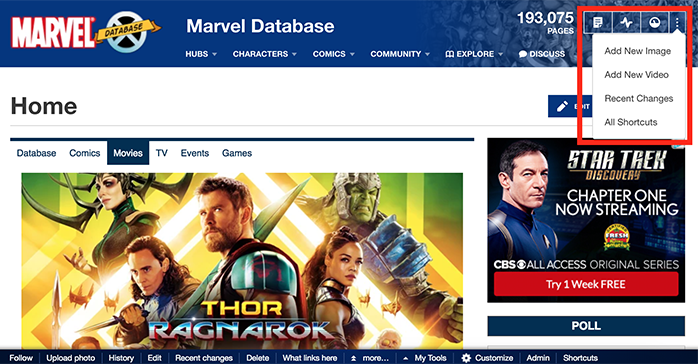 With the release of the new menu, we will study the engagement data and user feedback for a few months before deciding on how we want to continue developing shortcuts in the page header. Our hope is that, if the engagement looks promising for it, we will be able to add customization into this menu so you can tweak it to your convenience!
This is a small but exciting evolution of the product development work from 2017, and we look forward to updating you on it in the coming months. In the next few weeks we will also introduce you to some of the ideas that will help guide our product development in 2018, so be sure to keep checking back on Community Central for all the latest FANDOM development news!
Want to stay up to date on the latest feature releases and news from FANDOM?
Click here to follow the FANDOM staff blog.
Interested in learning more about community management on FANDOM?
Click here to view our community management blog.