You might try to find a REAL fairyland, right? You can't find it anywhere on Earth, because it's FAAARRR AWAYYY in the Candadia planet, in the Susikandado galaxy. And, here, my name is Sabrina Hanayume. I live in Ramiriaze City, Candadia, exactly in the castle. I'm the princess!
What's Happening on Candadia?
Yeah..., ordinary fairy thing. We had the almost same things as humans, but we do it with magic. Just like cleaning laundries with magic! Just say "Candada, candado, miracle clean!" and there we have it, a clean laundry.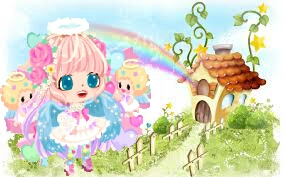 And you might ask.... Am I having a job? Yeah... I rule Candadia. You might ask, am I the guardian fairy or yeah, a toilet cleaner fairy or a poop eater? Nope. NOPE. I am the "Guardian Fairy" of the....
COCOAS.
You just think, "Ahh this f**kin' girl just want to keep some cocoas." Cocoas are the source of all magic in Candadia, so just don't think it's an easy food! I love chocolate until I just stunned when I eat it. Hahaha, that is the Cocoa Fairy habit. Yeah you know, in a "wiki drama show" called Jewelpet Peaceful Candadia,
Khristian Alcantara
acts as an antagonist (Sorry Khristian, this is just an ACTING, a DRAMA SHOW!!) and sending an evil Jewelpet (Jewelpets are little animals who can talk and use magic) named Herman. To remove Herman's evil mind, I use cocoas to cure him. So, just don't think cocoas are bad... CANDADIANS WILL CAUGHT YOU!!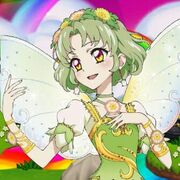 What is a Candadian...??
It's us, the "peoples" who live in Candadia. We, Candadians are the Fairies, Jewelpets and even Padlocks/key locks! I fell in love with Herman the Jewelpet and Ryan the Padlock. And you know, I've made a clay statue looks similar to Ryan!
And you know, my family, the Hanayume family, has an unique time of life. When we already have kids, yeah, maybe... Two or above, our powers will be transferred to them. If our kids, yeah, it can be the oldest or the youngest, or maybe all of them, found a Jewelpet partner, they will grow their wings and who is not founding a Jewelpet partner will have a pair ow small wings. When our power is transferred, we will turn into Padlocks. I hope this unique physical condition will not move to me, but ohhh, Mom's powers entered my blood. But don't worry, there are so many fairy families out there. For example, Minecraft family, Hikari family, Kiraniji family, and well, so many. Even if our life will change, we are still a Candadian!
I Want to Go to Candadia...
Wait... What? You want? Well, I've made a portal for you to go there, just enter it! Well, this is how to enter it, just follow the steps.
After you read the spell, CLICK that blue spell.
You'll arrive in a white, blank place. See above you and find an orange comet. If you see it, follow it until you see a place with a pinkish purple sky with rainbows. It is Candadia. (for Firefox users)
For other browsers (non-Opera Mini), just wait until you arrive at Candadia. The portal has the same function as a lift, but it teleports.
For the Opera Mini users, sorry that Candadia vision was limited and you can't see colors there. You should place in the back of the link with this: "?useskin=oasis" to enjoy Candadia. Note, the (") symbol wasn't included!
Okay, click that blue link to enjoy a fairyland packed in a link!